Play the long game. Own your customer relationships.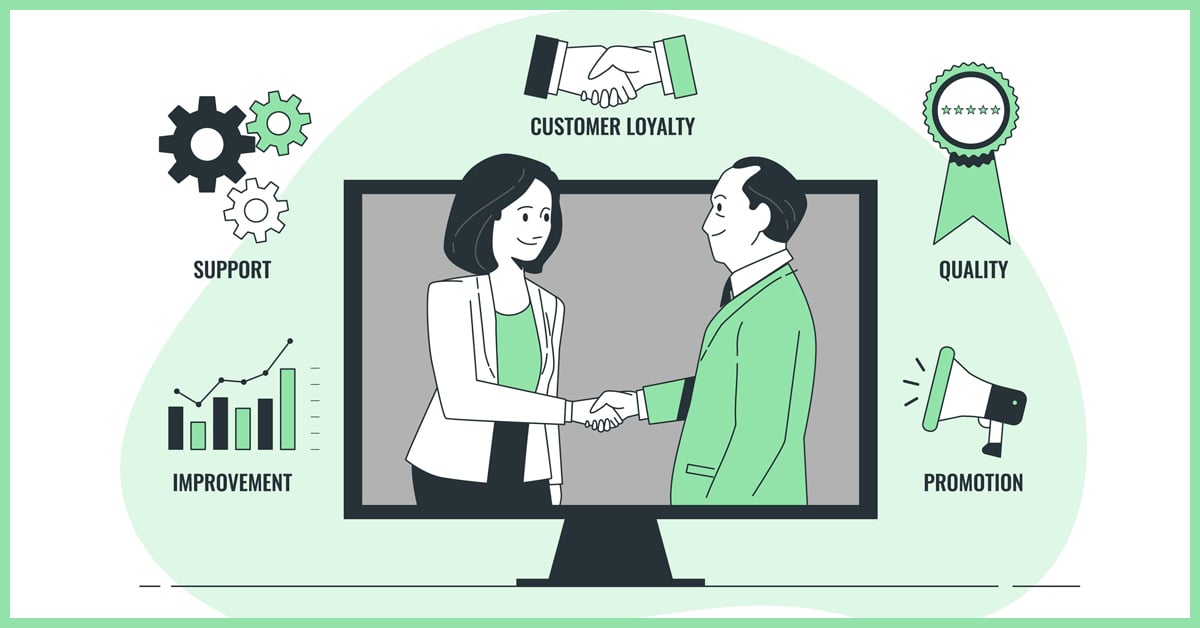 If you buy customer lists from database companies, no matter how genuine they are, you're technically 'renting' a customer. You don't own the contact because the customer knows nothing about you. It's like receiving mails from strangers and the success rate is hard to predict.
The same applies to advertising on social media, or any other media for that matter. You're renting space on their feeds. Sure, they have a lot more traffic than your website does, but they also have several brands competing for attention – and your brand is just one more player in that attention game.
You can create great campaigns and spend big bucks. At the end of the campaign, if you don't build a relationship with the leads you generate, it will mean spending big bucks every time. Now, is that a sustainable strategy?
What exactly does it mean to own your customer? Simple. It starts with a lead form filled, or a query generated on your website. A prospect who chats with your sales team is a potential customer.
They have moved up one stage from being complete strangers. They have heard about your company, or your brand and want more information. That puts them at a much higher level of importance in your scheme of things.
How HubSpot helps you own customer relationships
Take all the channels mentioned above as the first step. Whether it is social media, or a presence you maintain in high traffic sites, you pay rent to appear in front of prospects.
HubSpot helps you find, nurture, convert and track your customer relationships right through the journey and then, service the relationships as well
That's always been the way marketing worked before digital came along. Sure, large B2B companies sent direct mail and newsletters by post after printing them, but they would probably languish in the common mail pool. How many of those newsletters would actually be seen and read by decision makers was not easy to track.
Email, however, goes straight to a person's inbox. And that's direct access. If you provide enough value, the customer will continue to engage. No doubts there. There are enough successes in email marketing that companies have achieved for years now. It's a lot more effort. Creating messages for smaller segments of the same audience and curating the content that goes to those inboxes.
What information are customers looking for? Whatever helps them make decisions. Inform them about new developments in the sector from thought leaders in the industry. Become a trusted source they can rely upon, consistently, without trying to sell all the time. And HubSpot helps you setup, manage, schedule and track everything with great email marketing tools.
Use email sequences to fill extended decision gaps
The sales cycle for expensive products where decisions have to be made at multiple levels is long and protracted.
Email can be effectively used to move customers along to closure by periodic reminders about demonstrations, new information that may not merit a call, or price advantages that customers can benefit from.
Staying in the consideration set during a long-drawn sales process is essential. And HubSpot helps automate large portions of it
To move leads along a decision line, create emails for every sales stage in HubSpot. They can be sent out automatically and stopped when the sequence results in the intended action from customers.
The advantage of HubSpot's CRM in the email sequence is that every interaction can be recorded and analysed, as opposed to operating from Excel sheets and individual lists.
Later, the best performing email sequences can be adopted and automated across the organisation.
So, email marketing does not have to be a passive list. It can be part of the nurturing process and then, once the customer has converted, become a way to derive greater value by upselling or cross-selling from the product range.
Email, while used consistently by mail order and consumer product companies can become vital outreach for companies looking to build their base in a B@B market.
Be the best source of credible information about your industry
It does not matter if you're promoting cyber security or ball bearings. When customers perceive that the emails coming from you are credible, you earn their trust.
They are inundated with sales messages all the time, which they have learned to ignore completely. But by gathering industry information that customers will profit from makes them converts.
The best part is that these companies operate quietly, with marketing budgets far lower than conventional competition. What it needs is to set up an information gathering network on the ground.
Then, give it out in the form of periodic reports that help the client make buying decisions. It may seem as if all competition will profit from the exercise but customers know the difference between a company providing real value and the ones operating purely on discounts.
Trust can only be earned, not bought.
There are multiple ways in which email lists can be built. They require patience and constant tending. The results will not show immediately. But as the momentum gathers, it will become one of the most powerful marketing channels for your brand.
Survey after survey shows email beating all other media in terms of the returns on money invested. But it requires tremendous dedication and tending – much like plants that may bear fruit after years but keep giving for decades.
Email is the hard to build channel. And it starts on a bedrock of customer contact with proper information and consistent messaging.
The value of owning the customer relationship is that over time, your reliance on other media keeps dipping.
To begin and maintain a customer outreach program that can expand from a few thousands to millions of contacts, speak to us at Blueoshan. Our consultants help clients manage massive lists and keep deriving value.