Zoho CRM is an affordable and feature-packed tool that is perfect for small businesses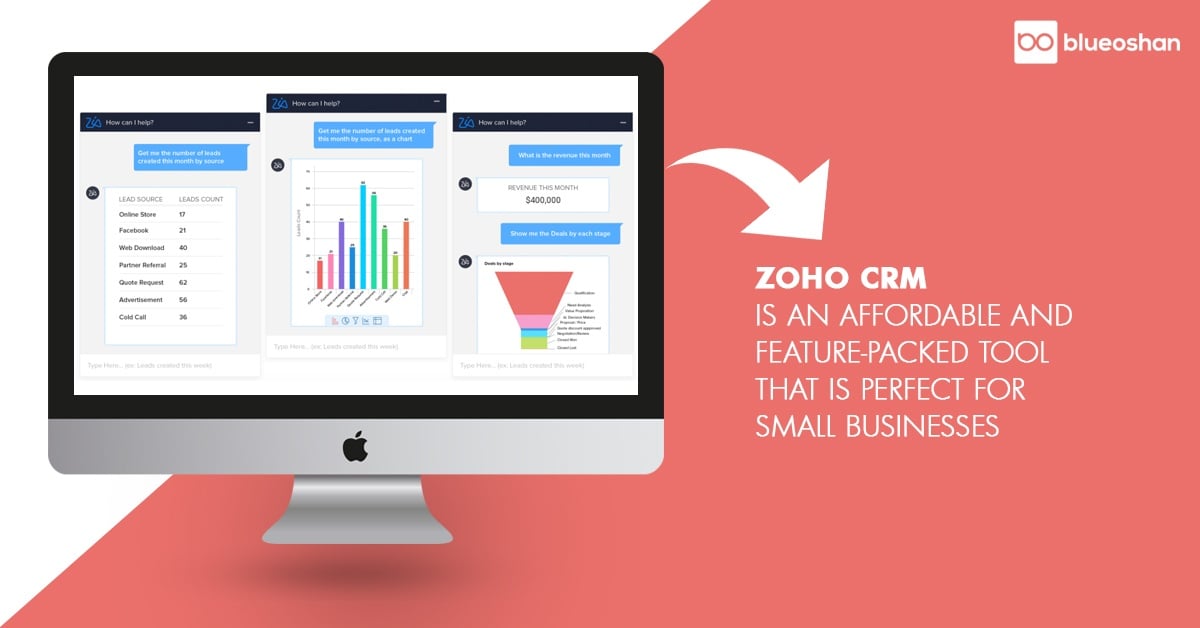 Source: Zoho
We've all heard the saying, 'Customer is King' (or queen, to be politically correct). This makes Customer Relationship Management, a.k.a CRM, very important to your business. CRM not only helps your company build good relationships with customers, it also makes sure that the customers remain loyal. There are plenty of CRM tools available out there. However, if you are a small business or a start-up that's looking for an affordable, user-friendly and feature-rich CRM tool, then Zoho has the perfect one for you!
Improve Sales, Decrease Costs
With Zoho CRM, you can boost lead conversion rates by great lengths and increase customer retention. At the same time, you can reduce sales and marketing costs. Any way you look at it, it's a good investment for your business! Whatever industry your company is in, Zoho CRM has specific modules and custom options available. You can also change the look and functionality of the tool to reflect your business.

Source: Zoho
Meet Zia
Zoho CRM boasts of having the first conversational AI for CRM. Say hello to Zia! You can chat with Zia by calling her on your mobile or by clicking on the 'Ask Zia' button on the desktop app. You can make calls, save contact info, change orders etc by just asking Zia. Thereby, saving you time. Zia will ask you for more information if necessary, and remind you of details, this way nothing gets missed. You can customize actions and program Zia to respond to the lingo and make it familiar with the terminologies your team and you use. This way nothing gets lost in translation, so to speak.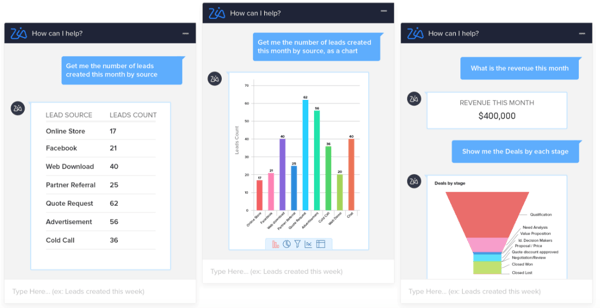 Source: Zoho
Customer Satisfaction
You might be a small organization at the moment and are able to give your customers personalized attention. But, as the business and sales force grow, how will you continue to maintain consistency and quality when it comes to dealing with customers? This is where Zoho CRM can assist you. The tool helps you automate repetitive and time-consuming tasks, thereby freeing up hours that your sales team can spend on acquiring and retaining customers. Zoho CRM also offers multichannel support, so you can be there for your customers on the phone, via email and even live-chat and social media. Guaranteeing that your client's needs come first!
Analytics and Integrate
With Zoho CRM you can use visitor tracking and engage with potential clients. This can be extended to predict customer behaviour and trends. The tool integrates with various Zoho apps and third-party apps. This opens up plenty of opportunities to engage with customers and get insight into your business. For example, by integrating Zoho CRM with Zoho Mail and Gmail, you can easily convert contacts into new leads. With the Zoho Reports integration, you have access to advanced analytics and you can analyse customer behaviour from the reports. Added to this, social media integration allows you to know when a person has commented on Facebook or Twitter, so you can immediately reply to them and answer their queries.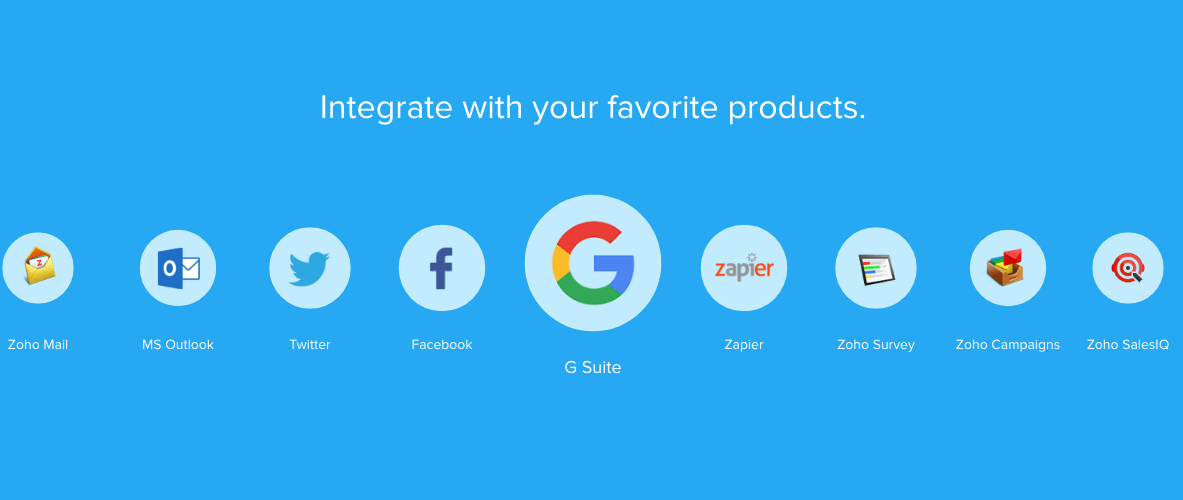 Source: Zoho
Reviews
'Quite simply, Zoho is one of the most trusted CRM providers today. With over 50,000 customers and counting, not only is it the go-to for some of the big guns in customer relations (even Amazon), it's also known as a chart-topper for small business owners.'- Startups