What is Inbound and Outbound Marketing?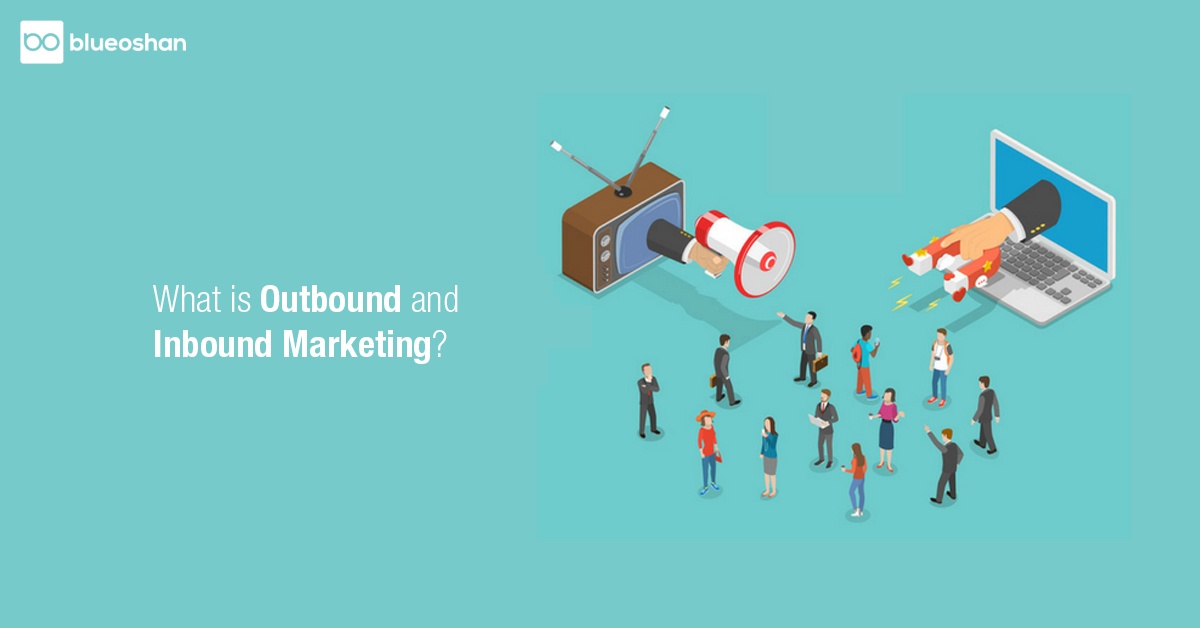 Inbound Marketing is a process by which you turn strangers on the internet into potential customers and eventually into promoters. It's proven to be a very effective method of marketing for small and large businesses alike. Inbound marketing combines the marketing efforts with the sales efforts of a company. This is followed by a Customer Relationship Management system (or CRM) to ensure that your customers come back for more. If this is done right, it's possible to convert your die-hard customers into promoters of your business.
Over the last couple of years, inbound marketing has helped improve the customer experience. Nowadays, people are looking for solutions for their problems on the internet using search engines like Google. Therefore, there's a large requirement for content and information around products that your customers may be looking for. One aspect of inbound marketing is attracting these potential buyers to your business by creating content around the products and services that you provide.

Attracting customers can happen through a number of ways like having a beautiful landing page or call to action, informative blogs, and attractive social media campaigns amongst others. One way of improving visibility to prospective customers is by creating educational content that is simple to understand. Once you understand what your customers are looking for, you can optimize your blogs to reach as many people as possible. At the beginning of the buying process, a customer is potentially looking for details on the product or service. It is important to be an authority on the subject and to ensure that the customer trusts the information that you're providing. This content must be well researched in order to earn the trust of prospective customers.

Another aspect of inbound marketing is converting these visitors into potential customers. There are several ways to do this, for e.g. some websites have a live chat widget that lets the customer leave their email addresses if they're interested in more information. At this point, it's important to nurture these leads by customizing the information that you send them. You can also track your leads by using a CRM software like HubSpot to manage your database of customers. If you're convinced the lead is serious enough to convert, you can set up physical meetings, virtual meets or even speak with them on the phone. By engaging with the lead directly you're likely to convert them into a customer.

Finally, closing a customer is up to the sales team. There are various ways this can be done. The messaging at this point to your lead has to be relevant and customized. You can even run an email campaign to build trust with leads. It's important to nurture every lead in a unique method. Once you have enough leads, a lead scoring system is perfect to rank leads by importance. It's not important to run after every lead that you get but to prioritize leads that are closer to a done deal.

In conclusion, this is how inbound marketing works: we attract a visitor, we convert them into a lead, and finally, we close the lead making them a customer. Beyond this, the last stage of inbound marketing is getting the customer to become a promoter of your business by delighting the customer as you serve them.

Outbound marketing is pretty much the opposite of inbound marketing. In outbound marketing, the customer is reached out to by means like advertising such as radio, TV, newspaper ads, magazine ads, flyers, brochures, catalogues, trade shows, cold calls, and emails. This is a traditional form of marketing that has existed for many years and can be the most expensive kind of marketing. The good thing about outbound marketing is that most customers understand it, on the other hand they don't necessarily enjoy it. Since most customers are accustomed to devices like the TV, the radio, and email, outbound marketing has a fair amount of success with the old school crowd. Newspapers are still a great place to advertise, and many people look forward to the Sunday Classifieds when they're looking for something.

Having said that, repeatedly getting harassed by telemarketers isn't really fun, and a lot of customers are figuring out ways to bypass the email and phone spam that some companies adopt in their methods for outbound marketing. On top of that, some types of outbound marketing are super expensive, and generally doesn't have the kind of success rate that inbound marketing does. Since it's a traditional form of marketing, many large companies consider the cost of outbound marketing, a necessary evil. One of the problems with outbound marketing is the difficulty to track the return on investment. However inbound marketing is far easier to track, and arguably has a higher ROI.

Outbound marketing is a great way of creating awareness though. Since you're casting such a wide net, if it's done right, you might be able to create a hype around your product or service. In the case of cold calls, an incentive or a promotion might get you a potential lead. Contests, media promotions, and giveaways are great ways to generate interest in your product. Other methods include a monetary incentive or trial offers, where the user can opt-in for a trial of the service, if they enjoy it, they can buy it. In outbound marketing, it's important to get the messaging right, so that the customer doesn't think of it as a sales pitch. If the copy of the messaging is personalised and the customer feels that can relate to the product, they're more likely to engage.