Prioritise your customers and keep them happy with Zoho Desk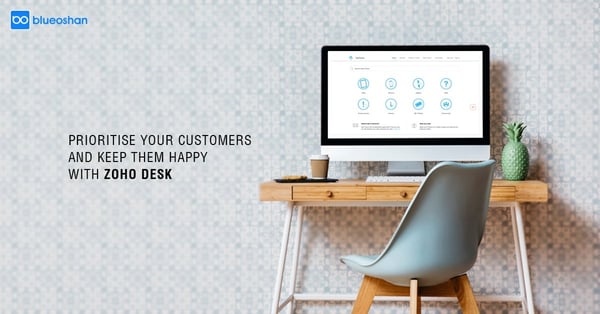 Source: Zoho
Zoho Desk is a help-desk software that allows a business to concentrate on its customers and meet their needs. It works for three categories – for agents, for managers and for customers.
Super Agents!
Work Modes are available so you can prioritise tickets accordingly. For example, with the Countdown mode tickets are prioritized based on when they are due, the Handshake mode is for tickets from long-time customers, and there is even the traditional latest-on-top mode.
Thanks to the Zoho CRM integration, all information on the customer will show up while working on the ticket. This way there will be some context to the conversation you have with the client.
Pre-built answers to standard customer queries are available. So, with a click of a button Zoho Desk provides the required response from the Help Centre and you can close the ticket quickly.
You don't want multiple agents working on the same ticket. To avoid this, changes made to any ticket can be viewed and the agents are alerted as well. This means that the chances of two agents working on the same ticket is slim to none.
For easy reference, tickets can be organized into different categories and assigned specific tags.
The Zoho CRM integration throws up multiple opportunities and potential for sales. If someone has a query about what to purchase, the sales team can immediately get in touch by taking over the ticket from within the CRM.
Agents can add and update information based on conversations with customers that can help the sales team.
The sales team will be notified if their lead raises a ticket, due to the Sales Signal in Zoho CRM. This will give them insight into the lead's actions and help them close the deal.
Zoho Desk fosters collaboration between the agents and the sales team. This enables cross-selling to happen, unhappy clients can be identified and given attention and timely responses can be given to customers.
Within a single screen you can compose responses, include solutions, and respond to customers.
With the team feed, you can discuss issues, tag tickets and can use @mention so that the right person within the organisation can provide the customer with the right answer.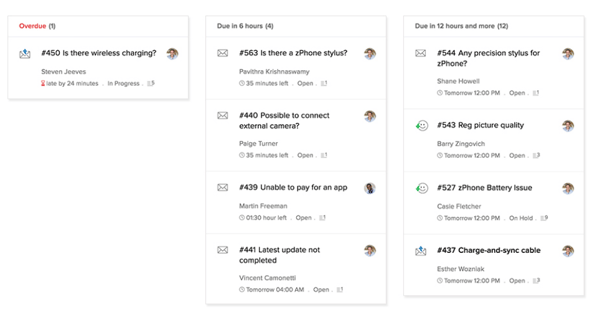 Source: Zoho
Manage like a Boss
As a manager you have to go through individual reports, look for patterns, find solutions and see where improvements are necessary. Zoho Desk simplifies this for you with HQ, a single window where you can get the complete picture.
Keep track of what your agents are up to at all times with live updates of who is online and who is offline, as well as what tickets are unattended to, which you can then assign to agents.
Some tickets may be unresolved even after multiple conversations. Look into those tickets and see what went wrong and how it can be fixed.
Graphs and charts will show you the number of tickets at any given time and the response rates. This information can help you make better decisions when it comes to managing and optimising the use of your agents.
With the dashboard feature you'll have all the metrics displayed on one screen, you can also get time-based reports, and an agent scorecard where you can track an agent's performance based on customer satisfaction, tickets attended to, etc.
You also have access to the solutions dashboard, which will educate you on the number of customers who have read your solution articles.
With the Zoho Reports integration you'll have access to advanced analytics.
You can survey customers to find out their level of satisfaction and convert the data into reports easily.
Use built-in reports to chart the performances of agents and improve customer service.
The help desk can be automated in many ways: Ticket assignment to agents can be automated, tickets which have been delayed can be escalated to the manager or assigned to another agent, customer and agents can be notified about updates and responses automatically.
Every aspect of your help desk can be customised and native integrations and APIs will boost the performance of your customer service.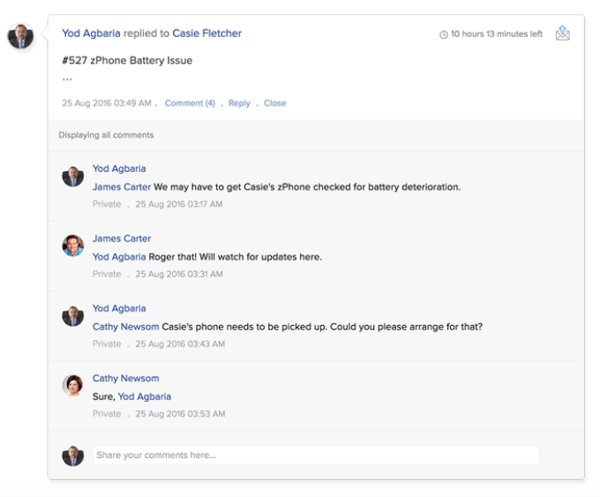 Source: Zoho
Customers to the forefront
Have a help centre for each brand so that there is no confusion or overlap.
Put together knowledge-based articles which can provide answers to customer's frequently asked questions.
With Zoho Desk, customers can interact with your team and with each other to discuss, find solutions, and crowd-source for answers.
If a customer has a unique problem they can submit a ticket to the help desk for a personal interaction.
With Zoho Desk you have multi-channel contact with customers. You can email, call, instant message, whatever suits your customer and never miss an opportunity to help them.
Zoho Desk has social media integrations which allows customers and agents to communicate on Twitter, Facebook etc.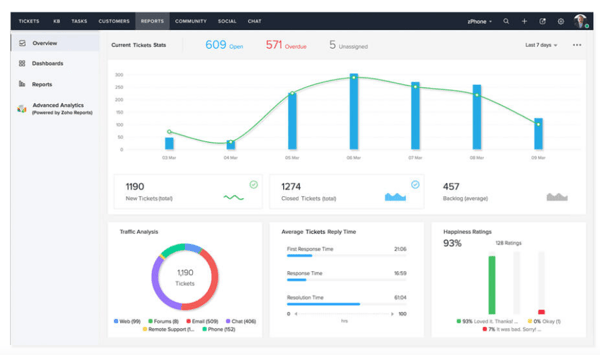 Source: Zoho
Review
'The software is a beneficial tool for integrating credibility, giving positive, resolute responses to customers.' - PCQuest