6 Reasons To Migrate Your Website To HubSpot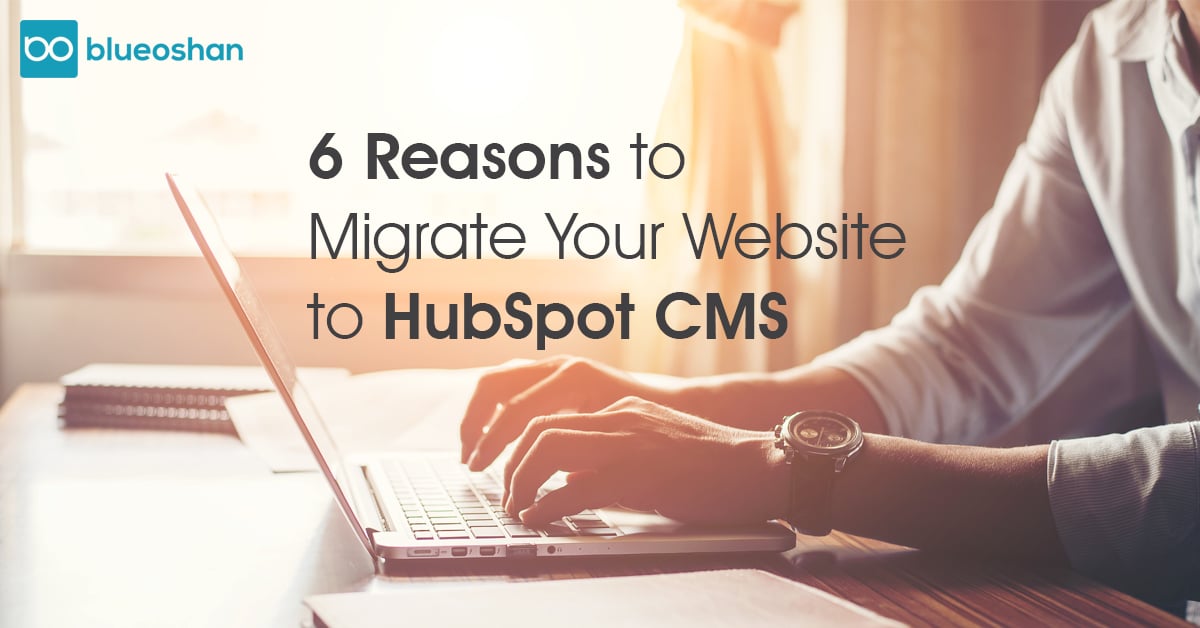 Migrating websites and content management systems used to be complicated. HubSpot and their agency partners like BlueOshan have expert migrations teams that handle all these processes for customers, eliminating all the hassle of moving your CMS. BlueOshan ensures that the process of moving to a new technology is streamlined and cost-efficient. Let's look at why the HubSpot Content Management System could do wonders for your brand:

1. Marketing efficiency
Most companies use multiple tools for promoting their content and acquiring leads on their websites. The problem is, sometimes managing all these different tools takes up developer time and Marketer's time. It becomes a hassle to manage, especially when you need to feature content on your most trafficked page, your home page. However, HubSpot CMS which is built over powerful marketing tools will allow you to easily insert on your website, call-to-actions, forms, live chat, and custom modules to promote your featured videos, e-books, related blogs, case studies, etc. The UI is easy to learn and doesn't require you to click needless buttons, deal with separate interfaces and account for technical specifications. Marketing teams can manage, optimize and the track the performance of the content created within the same platform.
BlueOshan's migration specialists will develop templates that perfectly mirror your existing website within HubSpot! This will in turn help you create new pages rather quickly.
2. Integrated personalization
If you're already using HubSpot you likely understand the value of having your landing pages, blog, email, and contacts database all tied together. But expanding this to your website as well allows you to leverage Smart Content to personalize every interaction that your visitors have with your landing pages and website. Personalized content gives the users a better experience, improves your website's ability to generate more leads and increase conversation rates.
HubSpot has conducted an analysis of 93,000 Calls-to-Action and found that the relevant and personalized ones ended up converting up to 42% over the generic ones. If you think about it, that is an enormous increase and you should definitely take advantage of it today.
The Smart Content feature in the HubSpot ecosystem also, allows you to easily customize and personalize your entire website, forms, calls-to-action, and even HTML code under specific conditions using location, device, language, or any information available in your HubSpot portal. The sky is the limit with the level of personalization, but Smart Content will make it easier to create relevant experiences that will drive lead conversions and inquiries. Leverage Smart Content to expand the horizon of your marketing efforts.
At BlueOshan, we shadow the best migration practices of HubSpot in each project.

3.Responsive Design
Be it desktop or mobile, the content you have created on the HubSpot CMS is very responsive and is automatically optimized for every device. The CMS provides an inbuilt tool to test your website and landing pages on every browser and device for responsiveness.
4. Speed, Security, Uptime
A good business worries about security and uptime. Protection from vulnerabilities, data leaks, and DDOS attacks are essential in the modern age of cyber warfare. Not only do you want to keep your data safe, but also the data of your precious customers and clients. The HubSpot CMS is secured using an enterprise-grade Content Delivery Network (CDN) and a firewall to ensure your website is fast, available, and secure from potential threats.
Maintaining your website and consistently having to deal with security threats from plug-ins can be a hassle and distract you from growing your business. These threats are automatically handled for you as soon as the migration to our CMS is completed.
5. The BlueOshan team are experts at migration
HubSpot's migration teams have moved over 12000 customers to the HubSpot Content Management System. During such migrations, not only do they move thousands of blog posts and web pages, they also consider various technical SEO factors such as page redirects, meta tags, alt text and keywords. The entire migration process is done in a staging environment to ensure that it doesn't affect your existing website or visitors. At BlueOshan, we shadow the best migration practices of HubSpot in each project.
6.Core Functionalities and features of HubSpot CMS
• Website, Blog, and LP creation
• Smart Content
• SEO Tools
• Design Manager & Marketplace
• File Manager
• Domain Manager (One top level domain, and subdomains for blog,email and landing pages)
• Web Analytics Reporting
• Distraction-free blog editor
• Schedule blog posts
• Publish to social media
• Mobile optimized
• SEO optimizer
• CTA creation
• Content collaboration
• Content calendar
• AMP support
HubSpot CMS can be purchased as a standalone product or combined with any hub for $300/month.
Interested in learning more? Check out all of the benefits of HubSpot's CMS. You could also contact us if you are looking to migrate your website to a powerful CMS that is built over some great tools, which every modern marketer/ growth hacker would love to use.