THE 7 MANTRAS FOR INBOUND MARKETING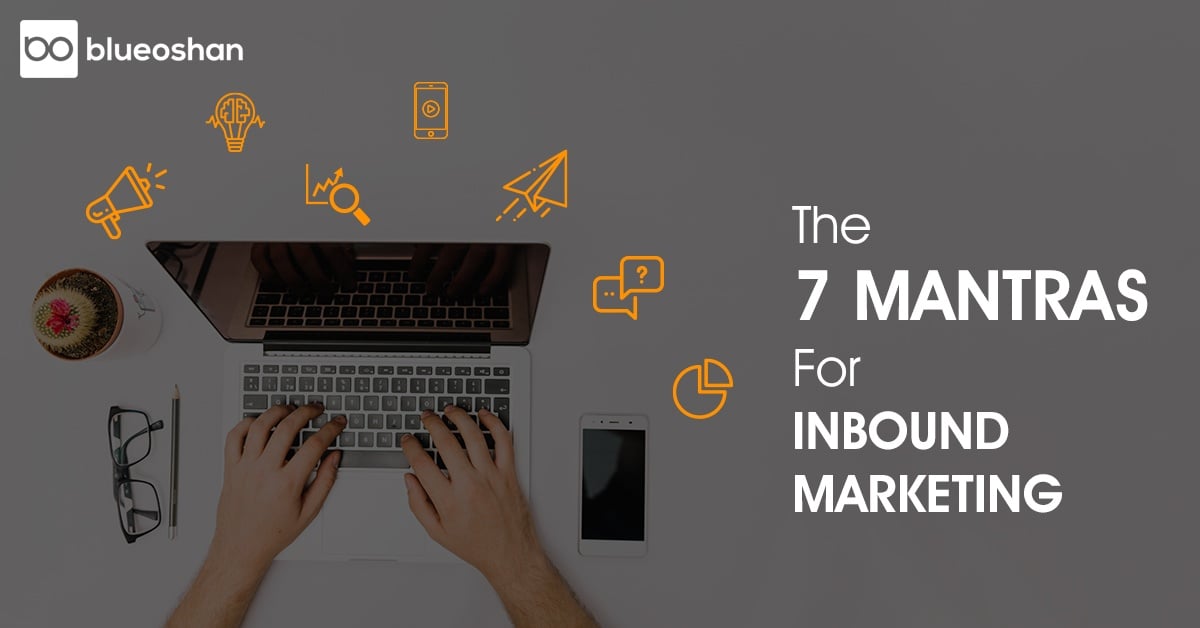 Chants and mantras get us through many an issue and help us tackle problems in life. So why should it be any different when it comes to marketing and sales. Inbound marketing is a holistic approach to digital marketing and to implement it in your business and succeed at it, remember these 7 mantras. Because following them will help you greatly.
Set SMART Goals
A business needs goals to work towards, to direct energy and workflow towards. But these goals should be SMART ones-- Specific, Measurable, Attainable, Relevant and Timely. This is achieved by making sure the goals set are clearly defined, measurable against set benchmarks, realistic based on the resources available, meet the needs of the business, and finally there should be a deadline, so that the task is completed on time. There is no point setting lofty goals that won't be met. So set SMART inbound marketing goals.

Pinpoint Target Audience
Once you have set the goals, it is time to identify the audience that will help you achieve the goals. To pinpoint your target audience, you will need to understand your buyer persona and get as much information about them as possible. This will help you generate more leads. There are plenty of software and tools available to help you define the personas.
Schedule Your FREE 30-Minute Consultation with our Inbound Marketing Specialist

Maximise Digital Assets
With the goals and buyer personas clearly defined. You can use digital assets such as landing pages, personalised content and CTAs among others. Why, you ask? Because by creating and optimising targeted digital assets, you can reach customers, make your business website responsive and allow prospects to get in touch with you.

Build your online presence
Buying starts online, by searching for a particular product or service on the Internet. So you need to boost your online presence to build brand awareness and to reach you audience. There are various techniques to do this, such as Social Media Marketing and Search Engine Optimization. Content marketing plays a major role in this and can drive traffic to your online pages and raise your ranking in search engines.

Generate Leads
To gather leads you need information, loads of information on the people visiting your website. Provide them with interesting content in the form of blog posts, videos, case studies, white papers etc. See what they click on, what they gravitate towards. Pepper your site with relevant forms, so that you can learn more about your prospects. Find out what resonates with your audience and engage with them to turn visitors into leads.

Nurture your leads
Once you have your leads, you need to guide them to the next step in a buyer's journey. Nurturing the leads and building a stronger relationship with them achieve this. Certain activities can help you here, such as email workflow automation, personalised call-to-actions on the website and personalised forms. This way you get more new information on the prospects based on which you can qualify them and can serve them better.

Convert to customers
By this stage you have gathered lots of information on your leads and provided them with a plethora of valuable content to consume. This is very helpful to the sales team that comes in at this stage. The data on leads will be fed into a CRM, which will educate the sales team and allow them to have conversations with context with the prospects. Thereby, massively increasing the chances of turning leads into customers.
All of the above mantras can be achieved by implementing an inbound marketing platform like HubSpot. For each of the 7 steps mentioned, HubSpot has tools and resources to get the job done. Also, I found the following Inbound Marketing examples (13 of them) To Boost Web Traffic Leads And Convert To Sales quite interesting and exhaustive.
Get in touch
with our HubSpot Implementation Specialist or Inbound Marketing consultant to learn more.