Hubspot Lead Generation Software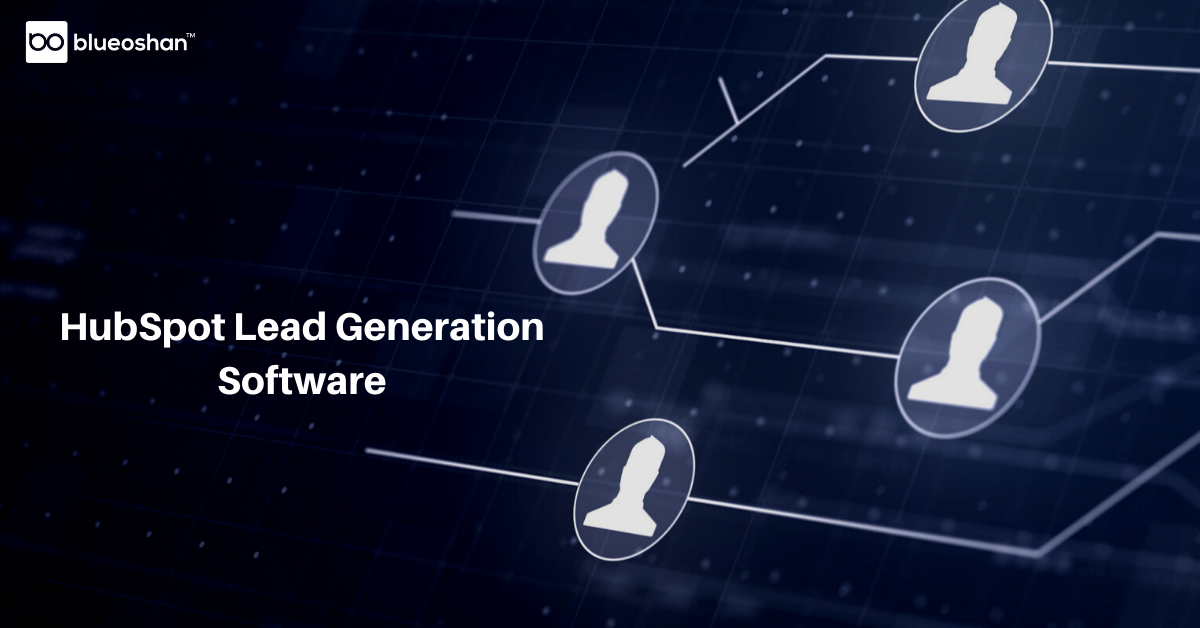 HubSpot Marketing, which starts out free, makes it easy to capture, store, and nurture leads.
1. Forms
Build custom forms that connect to your contacts database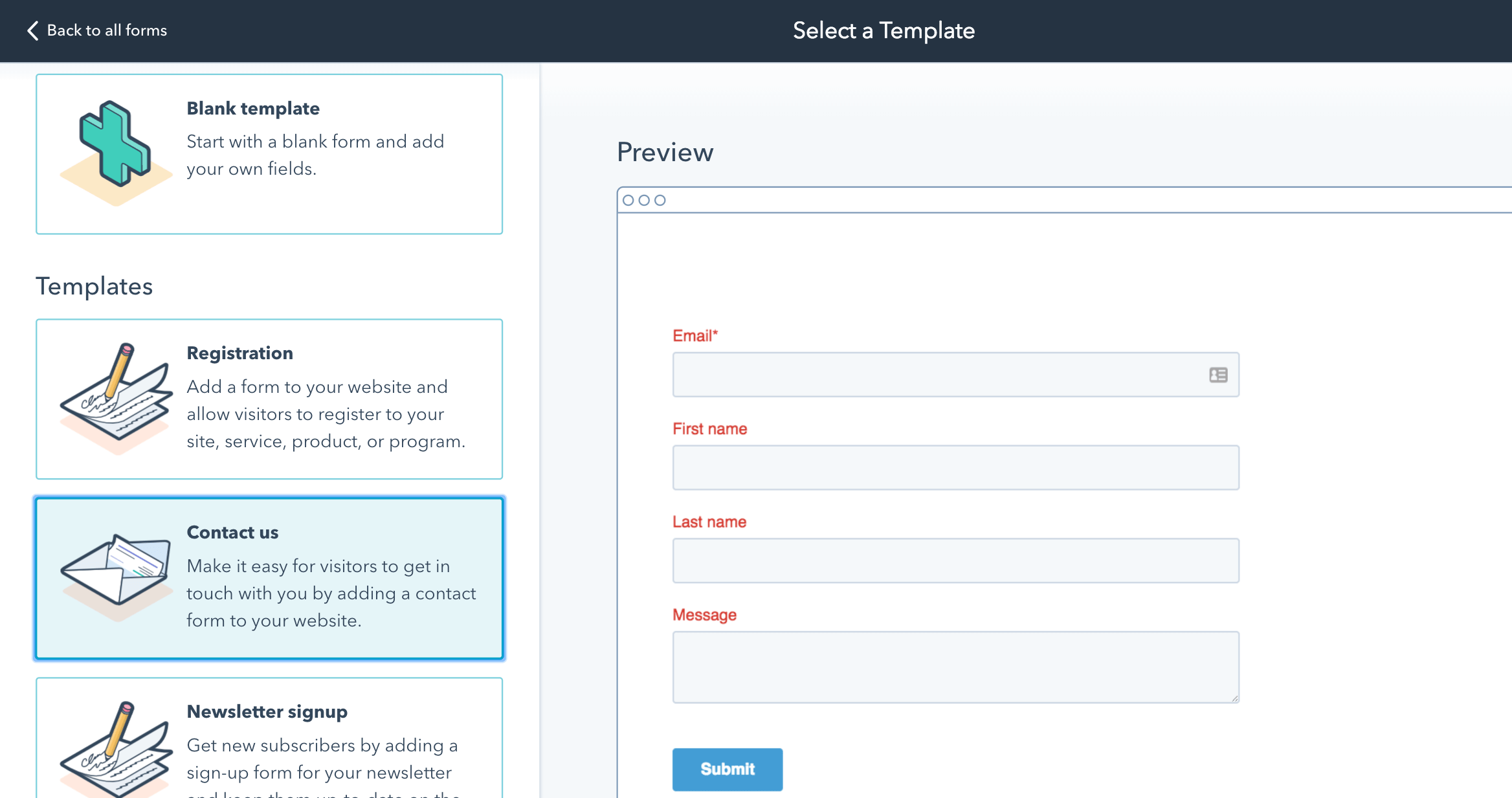 Forms are the best way to get potential leads into the HubSpot CRM. You can further manage this relationship by setting reminder tasks, calling them, or sending them personalized emails. They're really simple to create, customize and add to your website.
Customize the information you collect with up to 1,000 form fields and a dozen different field types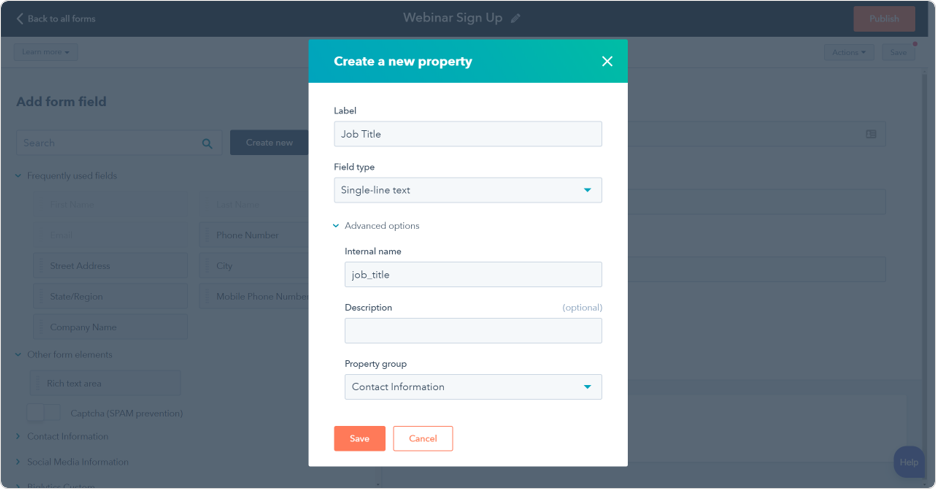 Creating custom forms with unique fields is super simple. Everything from text fields to date pickers to check boxes are available and ready to use. Once the form is created, you can simply drag-and-drop the questions you want to ask right into place. The learning curve is really simple. With Marketing Hub Professional and Enterprise suites, you get access to smart forms that adapt the questions to each website visitor, which allows you to show new questions to returning visitors.
Trigger automatic emails and notifications based on form completions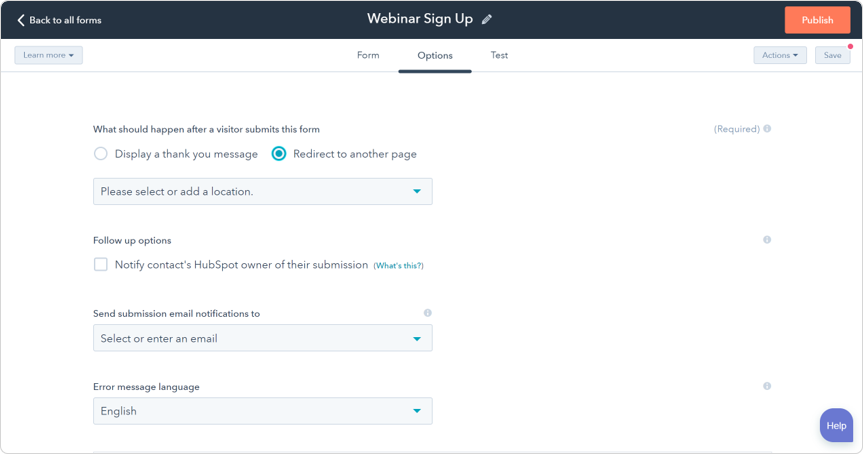 You can automatically send a follow-up email after a visitor completes your form by upgrading to the premium version of HubSpot Marketing Hub. Enroll your contacts in complex lead nurturing campaigns to convert those leads into qualified leads and subsequently customers.
2. Pop-up Forms
Build pop-up forms your visitors actually respond to, and drive more conversions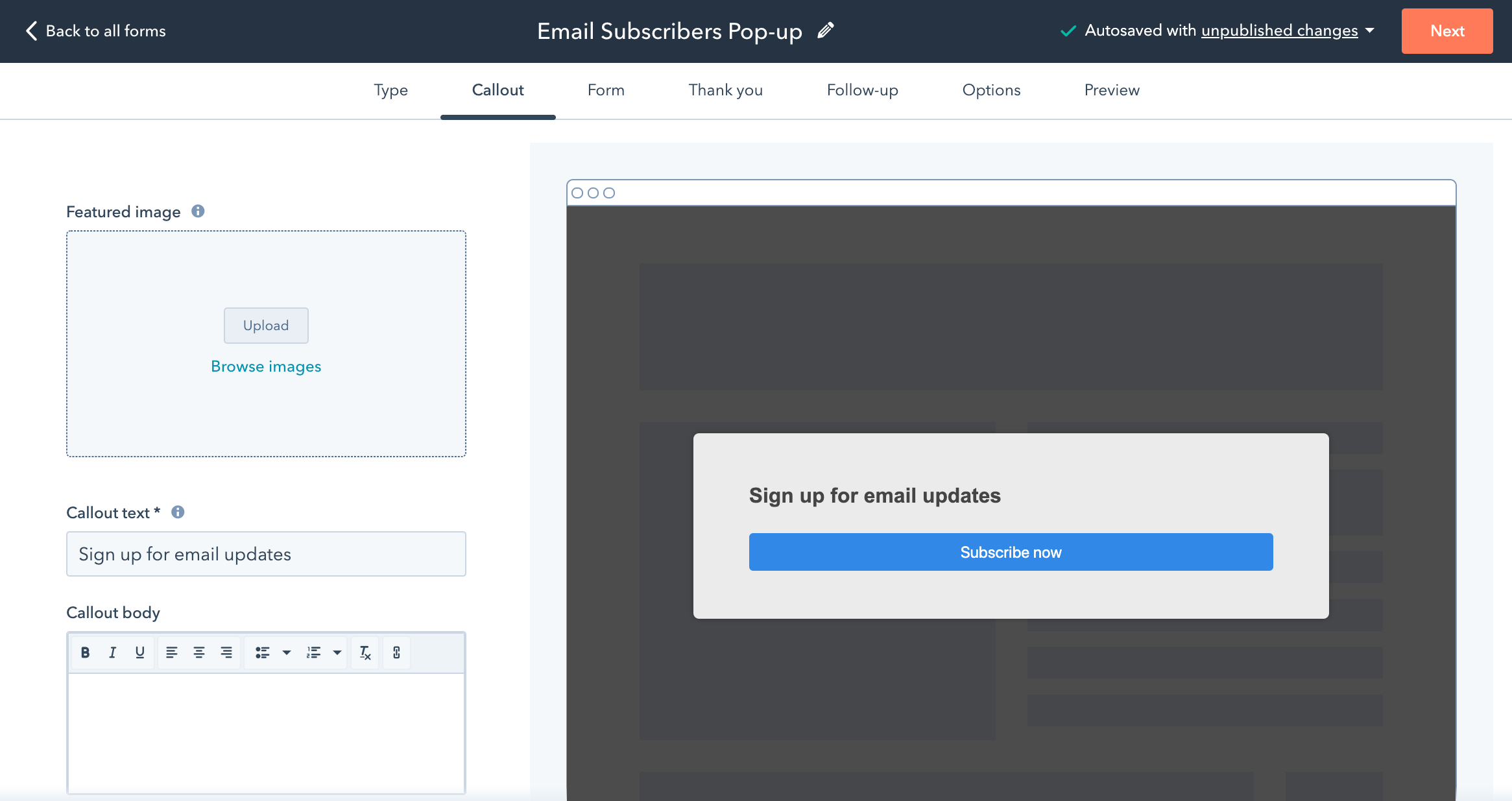 With pop-up forms your visitors can have a smooth experience to get the content they're looking for. You have the option of several different pop-up types, including drop-down banners and slide-in boxes. They're easy to customize and work on any site. Improve your conversions with pop-up forms.
Easily fill your CRM with leads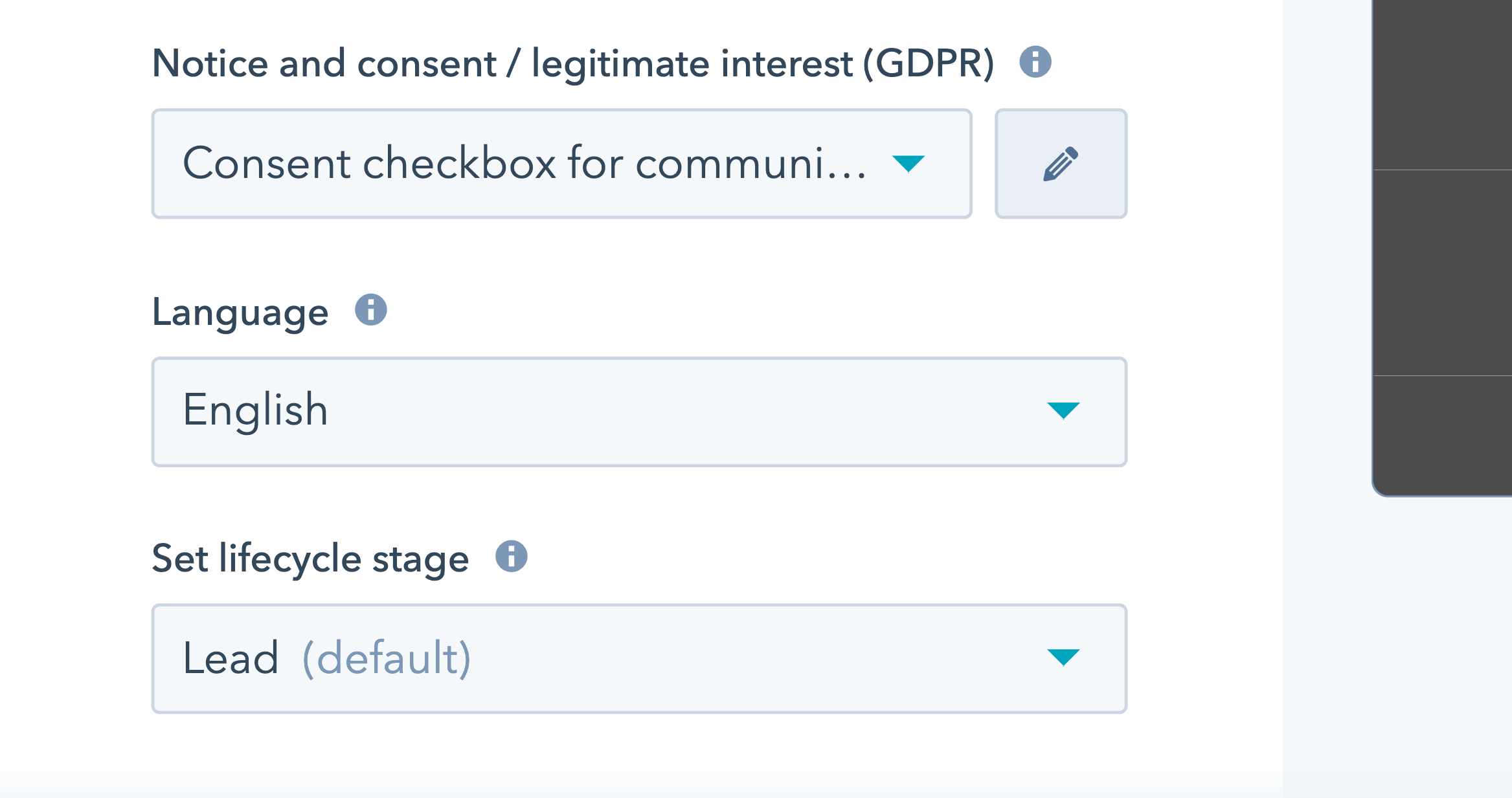 Pop-up forms will be automatically linked to HubSpot CRM where you can continue to nurture leads into loyal customers. Collect information on your site visitors with HubSpot and ensure you make the right business decisions. Prioritize leads that have a legitimate interest in your brand with just a few clicks.
Creating compelling pop-up forms is easy and done in seconds
With each pop-up form you create; you'll receive analytics on how that pop-up is performing. Analyze the pop-up's views versus its form submissions to make data-driven decisions when creating conversion paths across your site.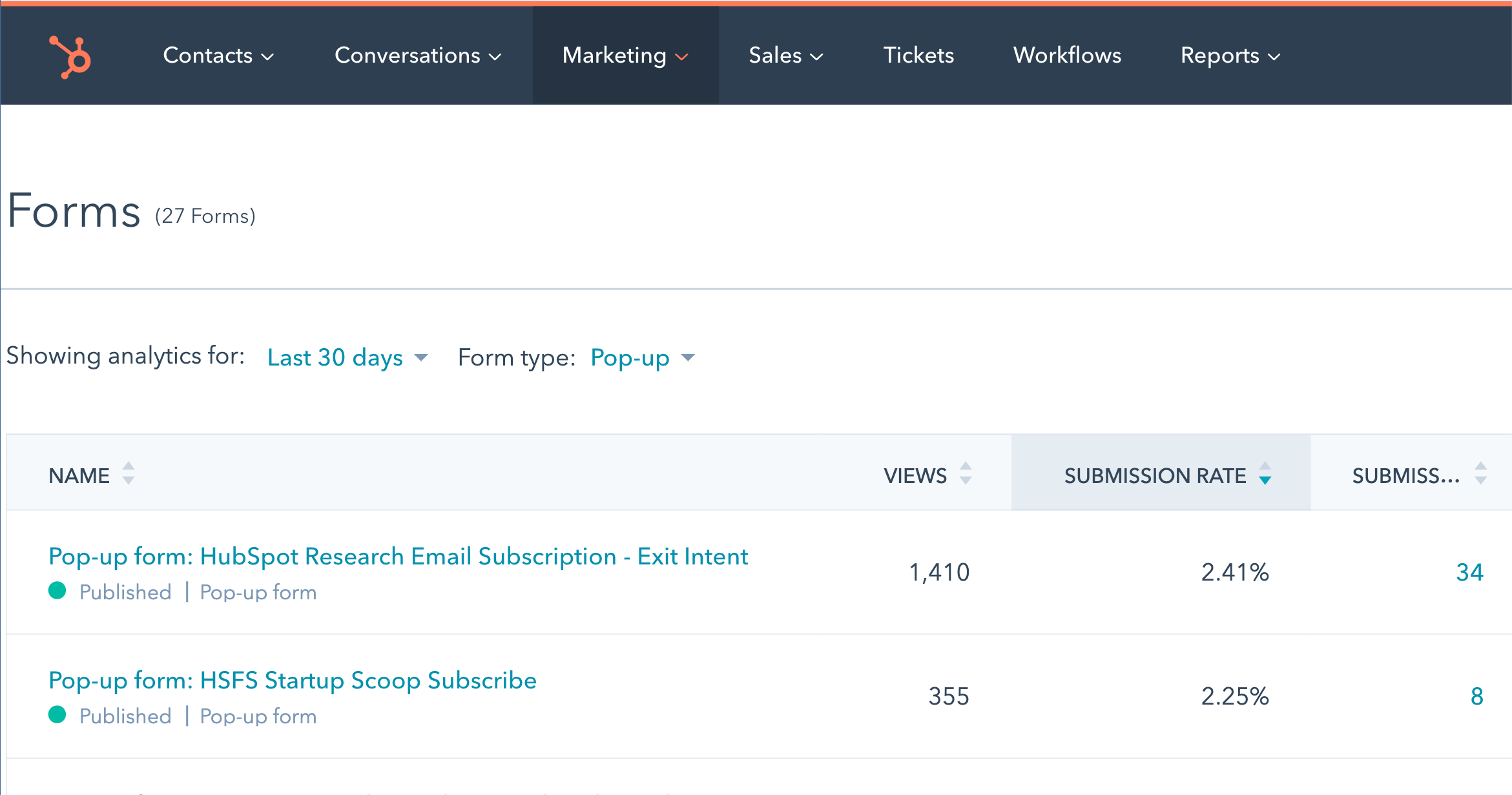 You can also set up email notifications that will alert you whenever a new lead converts on a pop-up form, so you never miss an opportunity to connect with a new lead.
3. Live Chat
Chat with visitors, prospects, and customers in real time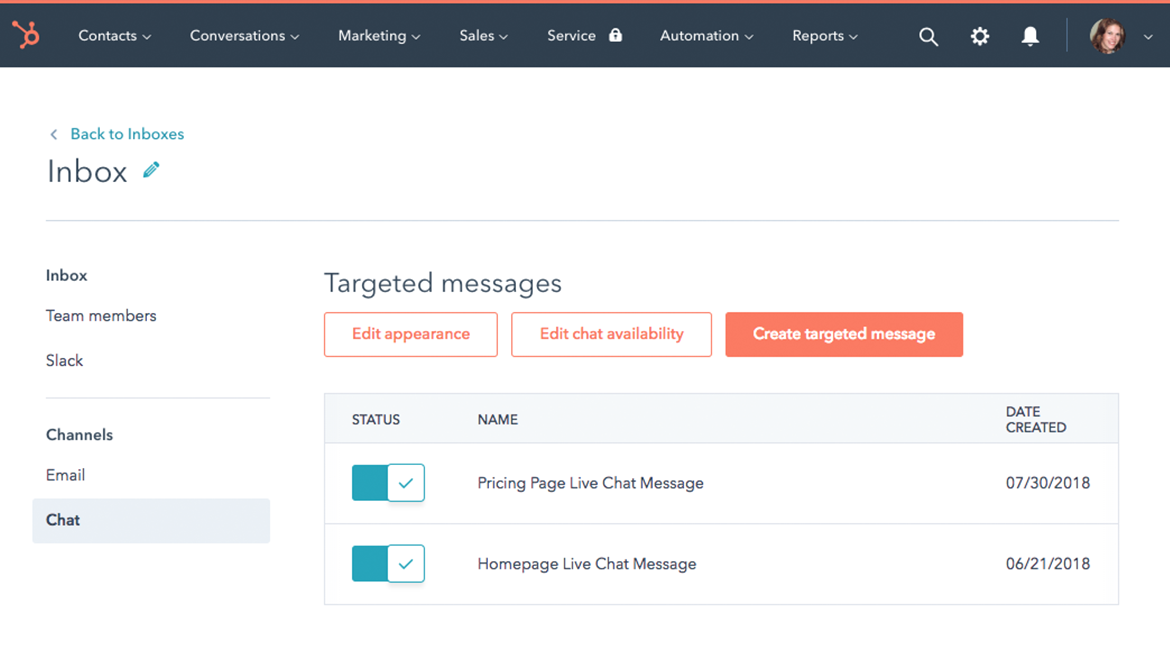 Live chat ensures that your customers get their information immediately. You can route customer inquiries to your services team, and pass leads to the salesperson who owns that relationship. Customization allows your chat widget to match the look and feel of your brand, and targeted welcome messages for different segments of your audience will keep the right visitors engaged. All conversations are automatically saved in the contact's timeline, so your team has complete context and a clear picture of every interaction.
Have unlimited, personalized conversations at scale with chatbots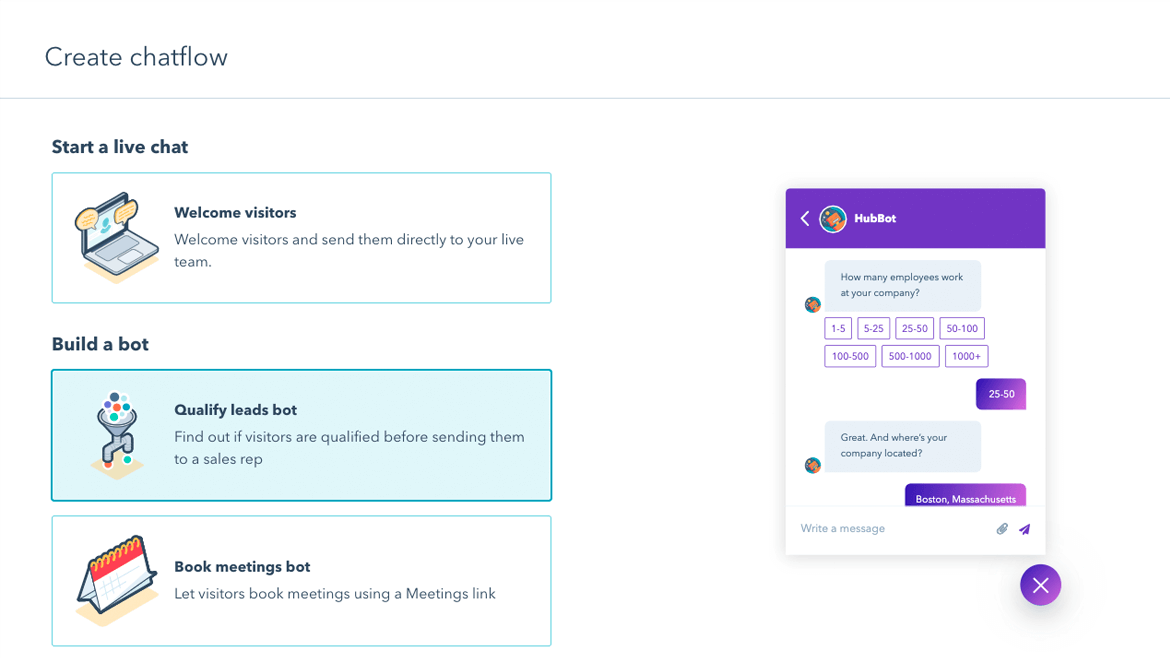 The chatbot builder is free to use and does not require any coding. You can easily create bots that help you qualify leads, book meetings, provide answers to common customer support questions, and more. Since HubSpot's chatbot builder is seamlessly integrated with HubSpot's free CRM, your bots can deliver friendlier, more personalized messages based on information you already know about a contact.
Engage in contextual chat conversations wherever you go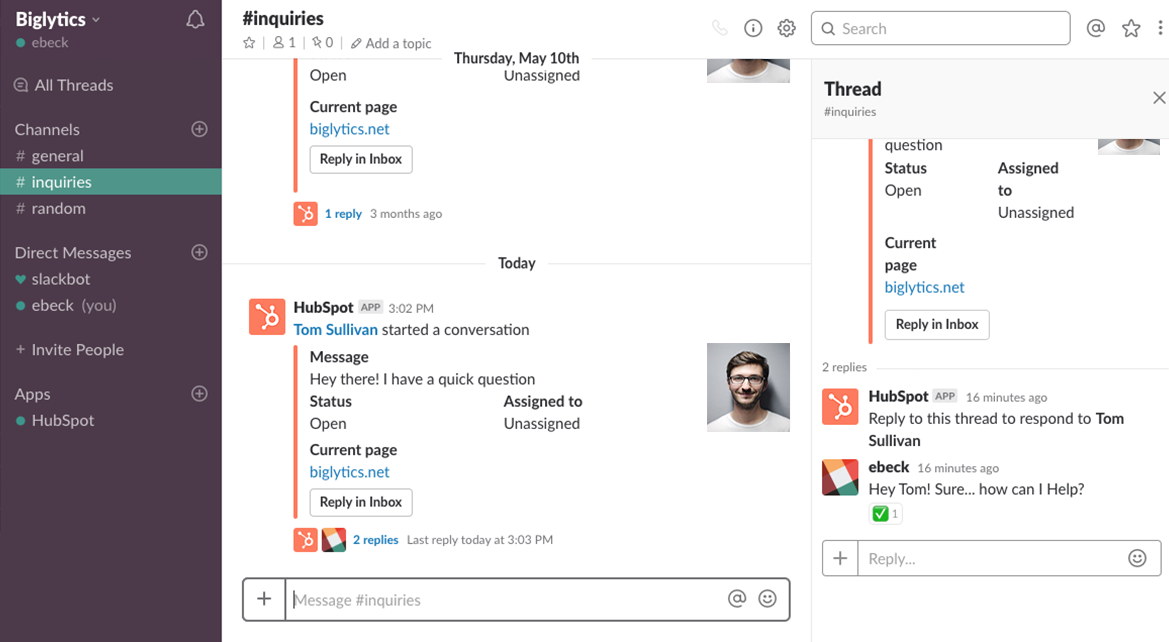 All your chat conversations are automatically stored in a universal inbox enriched with data from HubSpot's free CRM. This gives everyone on your team the context they need to craft the perfect response. You can engage in chat conversations on the go via the HubSpot mobile app or even designate office hours, so site visitors know when you're available to chat. Set up email capture so you can follow up on chat requests you missed.
4. Chatbots
Scale live chat conversations on your website and automate your processes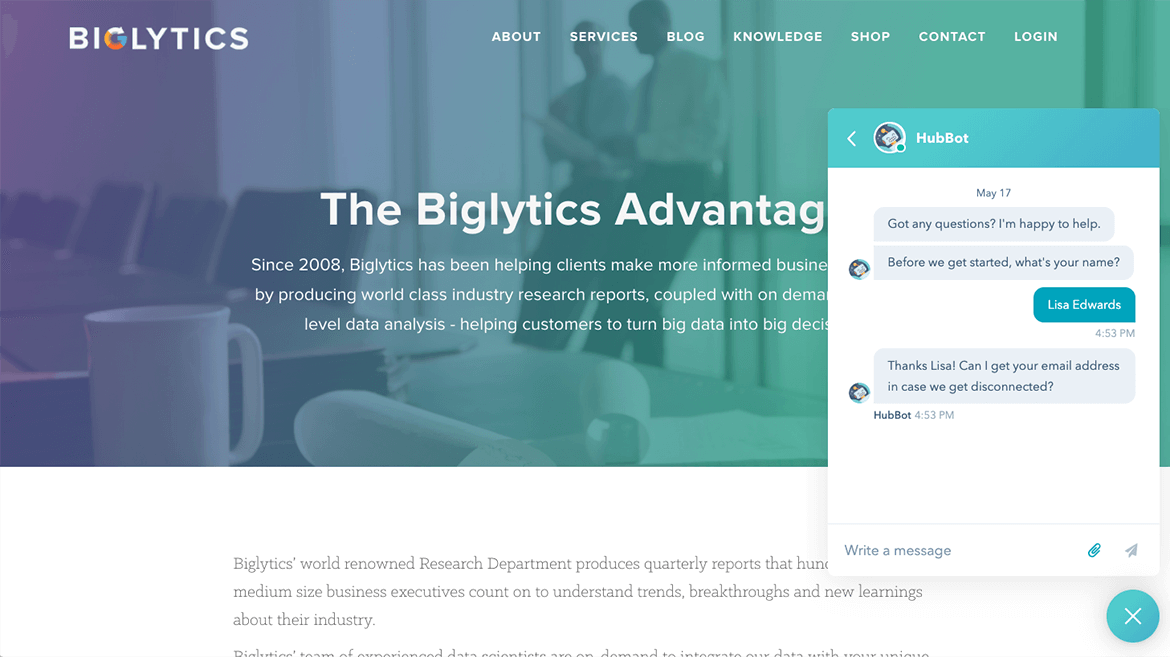 Chatbots allow you to scale chat conversations and lighten the load on your team. Easily create bots that help you qualify leads, book meetings, provide answers to frequently asked questions and more. Your team now gets to focus time on the conversations that matter the most or lead to conversions. Configure the bot to handle the conversation till a point, and once it's qualified hand it to a live agent who can take it from there.
Create and customize chatbots yourself — no coding skills required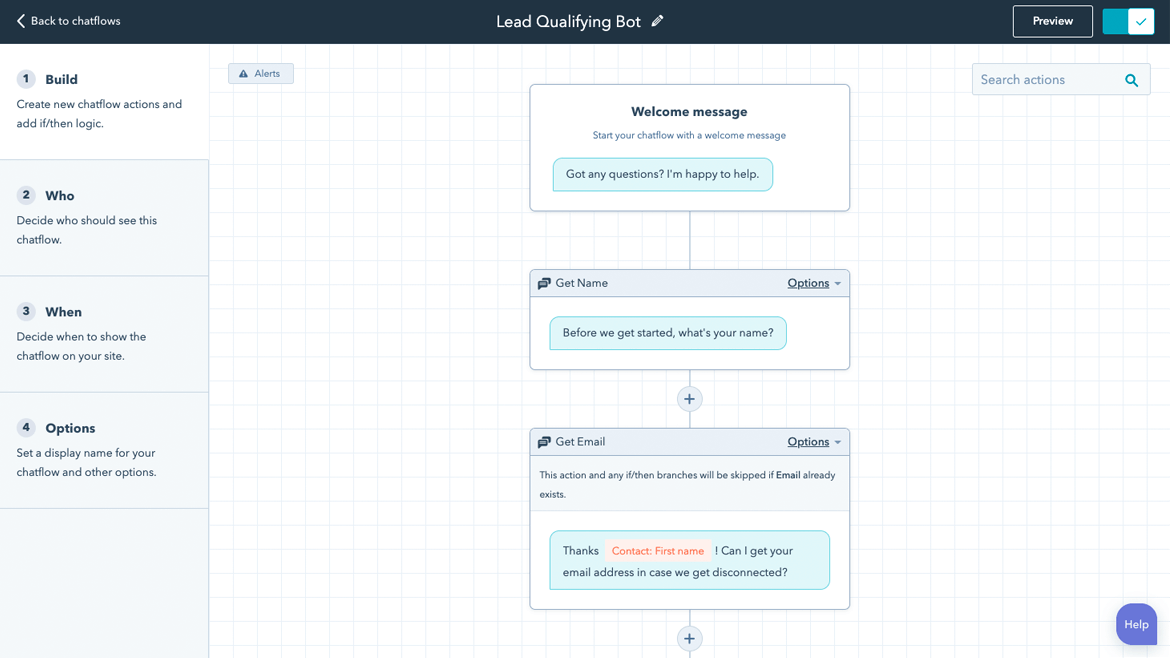 HubSpot has many bot templates that can be picked from for various use case scenarios. You don't need to be a coder to work with these templates. There's even a visual editor to customize the conversation to match it with your brand's voice and tone. Tweak the copy, add questions and multiple-choice responses.
Give your chatbots a human touch
Bots can now be quite realistic and friendly and can deliver personalized messages with information it already knows. While we aren't suggesting an iRobot scenario, a friendly bot with personalized messages can go a long way to ensure visitors are engaged. Try talking to HubBot on HubSpot's own website. You can see how friendly and useful it is.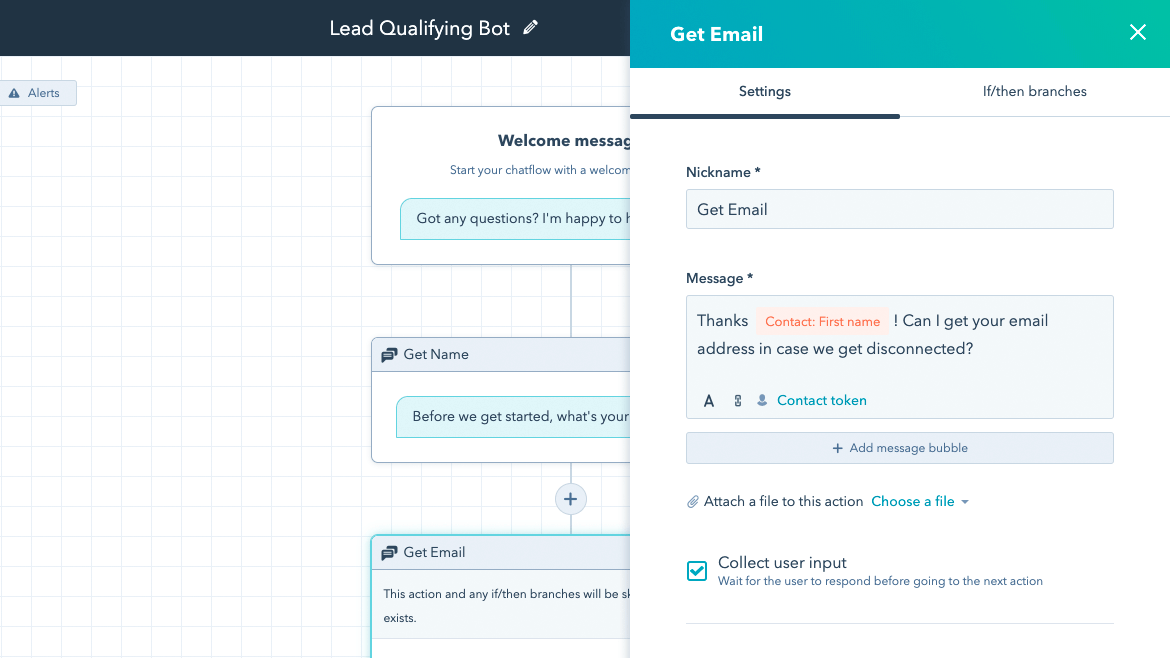 All these tools plug naturally into HubSpot's free CRM, or you can integrate it with your CRM, email tool, or customer data platform of choice.
HubSpot Marketing Hub helps you build an inbound marketing flywheel from start to finish. You create content that allures visitors, capture leads through one of several tools available, and then nurture them through emails. Eventually, your sales team will have full visibility of your lead's previous touchpoints and the context. It's a full suite lead generation machine.

You can reach out to one of BlueOshan's Inbound Marketing strategists to discuss your lead generation plans.
Image Source: HubSpot