Plan, manage and meet deadlines with Zoho Projects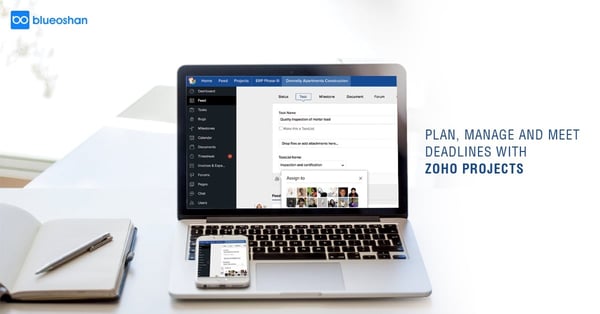 Source: Zoho
Planning a project, assigning people to it, making sure tasks are being completed, keeping track of time – a lot goes in to managing a project. And most importantly, the project has to be completed within the deadline. It's a stressful, hectic job! But someone's got to do it. Thankfully, that someone can be Zoho Projects. The software organises the workflow and provides tools to simplify the job and relieves you of much of the burden of planning and managing.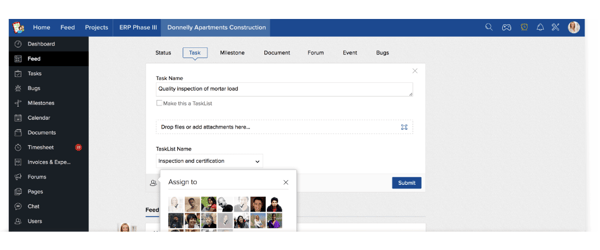 Source: Zoho
With Zoho Projects, the project can be broken into easily manageable parts like tasks, milestones, sub-tasks etc.
Assign end dates and due dates for milestones and tasks so no deadlines are missed.
There is centralized access to projects, so you can track progress, and everyone knows what their role is and what job they need to perform.
All documents and files for a particular project can be viewed and shared from a centralized location.
Every change made to a file is noted and recorded with the name of the author, the dates etc. This way every team member will be able to work with the updated version of the file.
The dependency view of the task module allows you to identify where there are bottlenecks and delays.
With the Kanban view you can visualize the workflow in the form of cards, and easily see what progress is happening.
Zoho's Gantt chart is a powerful feature that gives you a visual representation of the tasks and milestones. Tasks and dependencies can be added if needed and will be reflected in the chart.
Every detail of the project that shows up on the Gantt chart is colour-coded, overdue items are highlighted — so nothing gets missed. The chart can be printed or exported as a PDF.
Even if the team members working on the project are sitting at various parts of the globe, they work from a central location thanks to Zoho Projects.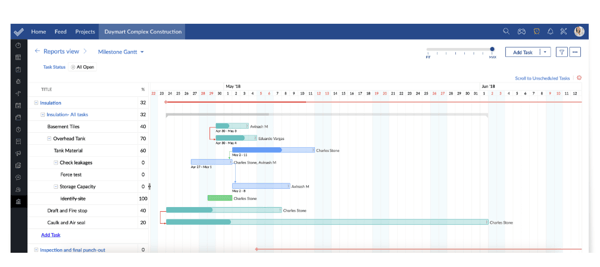 Source: Zoho
You can fill in who has to do what in the calendar, interactive message boards can be used to share ideas and find solutions to issues.
Team members can create customized pages where they share project related documents, spreadsheets, and presentations.
The in-built chat feature allows team members to communicate in real time and the transcript gets saved for future reference.
The start and end of tasks can be recorder on timesheets. You can log details and time of each task. Billed hours can also be tracked.
Timesheet data can be exported into an XLS or PDF and exported to clients, stakeholders with a click of a button.
Thanks to Zoho Invoice and Zoho Books you can convert the timesheet into an invoice and send it to the right people.
Timers can be set for specific hours which makes it easier to calculate the hours spent working on a project.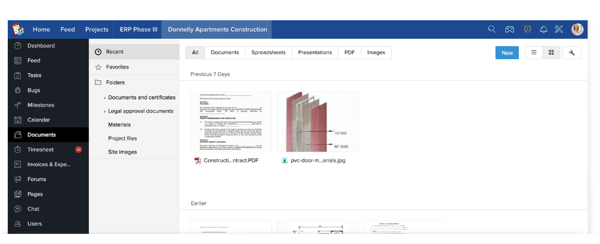 Source: Zoho
The Issue Tracker tool of Zoho Projects allows you to submit, track and fix bugs and issues that crop up in software projects.
You can create custom workflows using the Issue Tracker and trigger email notifications for events happening during the issue tracking lifecycle.
Use the 'My issues view', to see all the issues reported and assigned to you and keep track of what issues need to be fixed.
Zoho Projects, includes integrations with Google Drive, Google Calendar and Gmail. You can sync your tasks with your email, put the tasks on Google Calendar via which you can keep track, and upload files from Google Drive to your Zoho Project.
Zoho Projects integrates with a host of software and apps such as Dropbox, which makes file syncing easy, or even Zoho Reports which gives you in-depth insight into the way your team is functioning, to name a few.
You can download Zoho Projects on to your android or apple device, so you can plan on the move and are up to date with the progress of tasks.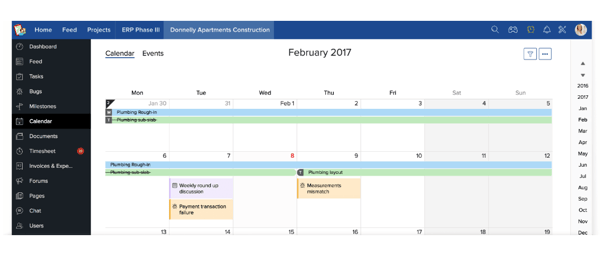 Source: Zoho
Zoho Sprints
This is another product on offer from Zoho, that can be used to plan and track for agile teams. While Zoho Projects makes sense, for say, a construction company where the length of the project is larger, Sprints works for a team in development where each stage is shorter.
'Unlike Zoho Projects, our Editors' Choice in the PM category, Zoho Sprints applies the Agile Manifesto's PM approach to planning and execution. Projects are broken down into four stages: Backlog, Plan, Iteration, and Product Update. Each stage is intended to take weeks rather than months or years. The initially established plan is meant to change as the situation warrants.'- PCMag
Find out more about Zoho Sprints and what makes it different from Zoho Projects here.