A New HubSpot CRM Feature: LinkedIn Sales Navigator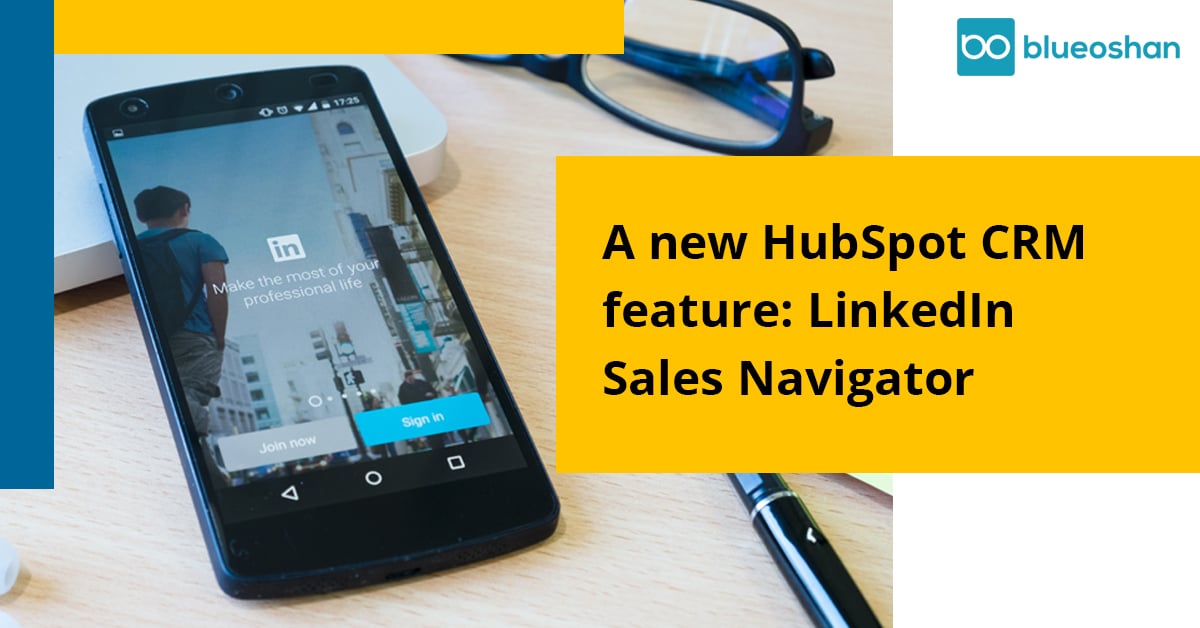 A new update for HubSpot CRM is out: LinkedIn Sales Navigator. It is a powerful tool that will guide sales teams to target, understand, and engage with leads and prospects. Sales representatives can now use LinkedIn Sales Navigator for sales activities like company news, lead search, InMail and more. The entire tool is integrated directly with HubSpot CRM to ensure ease of use. The idea is to eliminate opening a different browser tab to track down leads from LinkedIn. LinkedIn Sales Navigator can be found under the contact and company records menu in HubSpot CRM. Now users can track down related leads, mutual connections, common interests without having to leave the HubSpot portal.
But what is LinkedIn Sales Navigator?
If you're a sales representative, chances are that you are already familiar with LinkedIn Sales Navigator. According to the official HubSpot blog, "LinkedIn Sales Navigator is a social selling tool for salespeople. It's a premium offering, above and beyond the LinkedIn networking tool that we all know and love. As a paid tool, it lives separately from the LinkedIn interface that you're used to, but it includes many parallel features --- an advanced search tool that lets sales reps to find leads for outreach; an activity stream that brings together news and updates from people and companies a sales rep follows; a system for sending messages to connections, and more."
Our HubSpot certified integration specialists can carry out multiple integrations on a host of platforms.

According to LinkedIn, it was designed to harness the power of LinkedIn by adding unique sales features to take selling to a whole new level. LinkedIn Sales Navigator will allow you to do the following activities:
Find and target prospects more quickly.
Improve prospecting to qualify leads more effectively.
Get real-time updates and alerts on leads and prospects.
Shorten the sales cycle with recommendations on decision makers.
Setting up LinkedIn Sales Navigator
Setting up LinkedIn Sales Navigator requires users to navigate to their integration settings (found under Your Avatar > Integrations). Once you're there, click All Integrations, and search for LinkedIn Sales Navigator. Once you click View Integration, go through the authentication process with LinkedIn.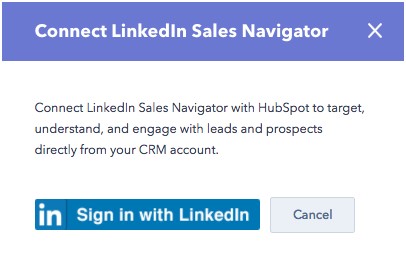 After you've set up the integration of LinkedIn Sales Navigator, you'll be able to see a brand new card on your left-hand sidebar for contacts. All this new information is pulled from LinkedIn, such as job title, company, time in role, location and industry. In the case of companies, you'll see information such as industry, size, and location.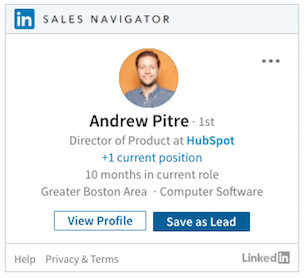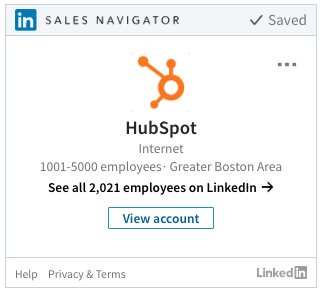 If you need a more detailed overview of a profile, click "View More", and you'll be able to see a lot more information within the HubSpot portal, convenient isn't it?


Note: All images are copyrighted to HubSpot. No copyright infringement intended.
| | |
| --- | --- |
| For Contacts, | For Companies, |
| ● Icebreakers - These are shared connections, experiences, and interests, as well as a link to a lead's recent activity stream. | ● Recommended Leads - This feature shows you, with whom in an organization do you already share connection or interests. Connect with them to start your sales outreach. |
| ● Get Introduced - With this, you can ask a mutual connection for an introduction to a contact. | ● Connections - This feature shows you who you are already connected with, in an organization. |
| ● Related Leads - This feature allows you to find other leads at the same company, and save them to your Sales Navigator leads lit. | ● News - This feature allows you to see all organization related news, from product launches, to new executive hires. Use this tab to bring context to your sales outreach. |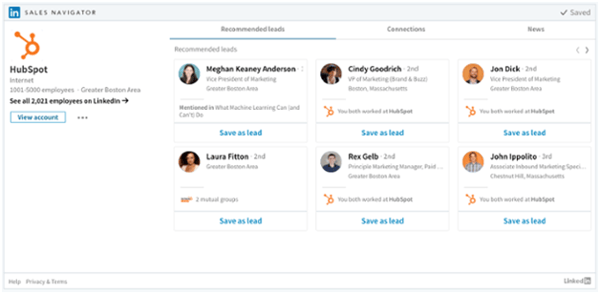 How to get started
BlueOshan is a HubSpot partner, so feel free to contact us to get started. Our trained professionals will help you setup your HubSpot CRM and we will guide you through the subscription process for Team or Enterprise Sales Navigator. If you require setting up your sales processes with HubSpot, let us know, and we will be happy to give you a quote!
Subscribe to our blogs and newsletter for updates on HubSpot and HubSpot CRM.