What is Sales Hub?
Powerful sales software helps teams close more deals, deepen relationships, and manage their pipeline more effectively — all on one easy-to-use platform.
Including a fully featured sales CRM, sales engagement tools, quote and CPQ functionality, reporting and analytics, and more — plus the ability to seamlessly integrate with 940 tools in HubSpot's App Marketplace.
For sales teams, friction is the ultimate foe. Stitching together individual point solutions and managing their complexities? It slows you down and stalls growth.
Sales Hub eliminates friction by bringing all your tools and data together on one easy-to-use, powerful CRM platform that your whole team will love. Now, you're freed up to focus on what really matters: your customers.
Generate polished, branded quotes in seconds. Send quotes when your product is top of the mind to close deals faster.
Know the second a lead opens an email so you can follow up at exactly the right time and close deals faster. No guesswork involved.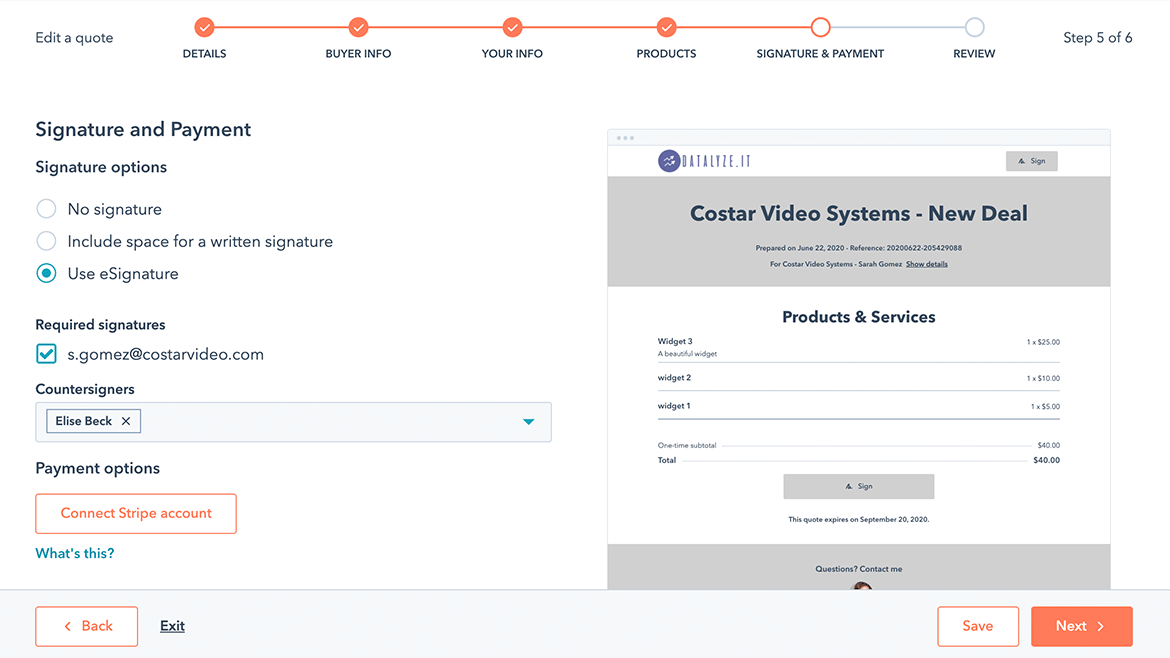 Automate the sales processes that repeat
Build a library of helpful sales content for your entire team, share documents right from your Gmail or Outlook inbox, and see which content closes deals.
Automatically capture details from every call so you can uncover the "why" behind team performance. Then unlock coaching opportunities with AI-powered insights.
Prioritize your day's sales calls, make and record calls directly from your browser, and automatically log them in your CRM for maximum efficiency.
Get powerful context about the people and companies you're emailing, right inside HubSpot CRM, Gmail or Outlook inbox.
Eliminate the painful back and forth of meeting scheduling. Share a link that gives prospects the power to choose a time that works for everyone — it'll automatically sync with your Google or Office 365 calendar.
Automate your sales process with a personal touch. Set up a series of personalized emails and follow-up tasks to ensure you stay top of their mind throughout the sales process.
Ramp up the conversion game
Connect directly with prospects when they're actively engaging with your website. Route chat conversations to the right salesperson to build better relationships and close more deals.
Stop letting lucrative deals slip through the cracks. Add deals with a single click, assign tasks, and track progress in your dashboards to make tracking sales pipelines a breeze.
Save time by turning your best-performing sales emails into templates that can be shared with your team. Just personalize with data from your CRM, and hit Send.
Arm your team with competitive battle cards, call scripts, positioning guides, and more. Better sales enablement and faster onboarding means more time to close deals.
Answer important questions about sales performance by bringing all your data together in one place. Get full visibility to your process so you can forecast effectively and deliver exceptional results.
Manage your contacts, deals, and tasks from any place and device. Keep up with your leads while you're on the move or away from your desk.
Build deeper relationships and turn your high-value target accounts into customers. ABM includes collaborative, intuitive tools that unite your sales and marketing teams.