What is Service Hub?
Customer service software that helps you conduct seamless onboarding, enable flexible customer support, and deepen customer relationships. Service Hub delivers efficient and end-to-end service that delights customers at scale.
It includes conversational tools, help desk automation, knowledge-based functionality, customer feedback surveys, reporting, and more — all powered by a CRM to give your business one unified view of each customer interaction.
Today, customers expect resolutions in minutes and personalized, 24/7 service through various channels. But most customer service reps are overwhelmed trying to meet these growing demands because their tools and data live across multiple sources.
Service Hub brings all your customer service data and channels together on one CRM platform, so you can efficiently onboard, support, retain, and grow your customer base. The result? Better customer service management and delighted customers at every stage of their journey.
Spend less time on data entry, and more time helping customers succeed. Add routing to tickets to create a help desk that prioritizes critical issues first.
Give customers the means to help themselves
Help customers help themselves, and reduce your number of support requests. Convert frequently asked questions into a searchable library of helpful articles, videos and documents.
Help customers on your website in real time. Automatically route users to the right people on your services team, and build better relationships through contextual conversations.
Use video to build stronger relationships from the beginning. Create personalized help videos for individual customers right inside HubSpot, and easily add them to emails or tickets.
Empower your customers to gain ownership over their experience with a secure customer portal. Your portal keeps ticket conversations going between customers and reps, so issues are resolved faster.
Call your customers directly from the HubSpot platform with HubSpot's VoIP software. Get crystal-clear call quality and take advantage of features like call logging and analytics.
Eliminate unnecessary manual processes so your team can focus on solving customer problems. Empower agents to craft personalized experiences that scale.
Keep your team organized and efficient by ensuring every user has access to the right assets. Quickly view and manage agent permissions, status, and availability across your team.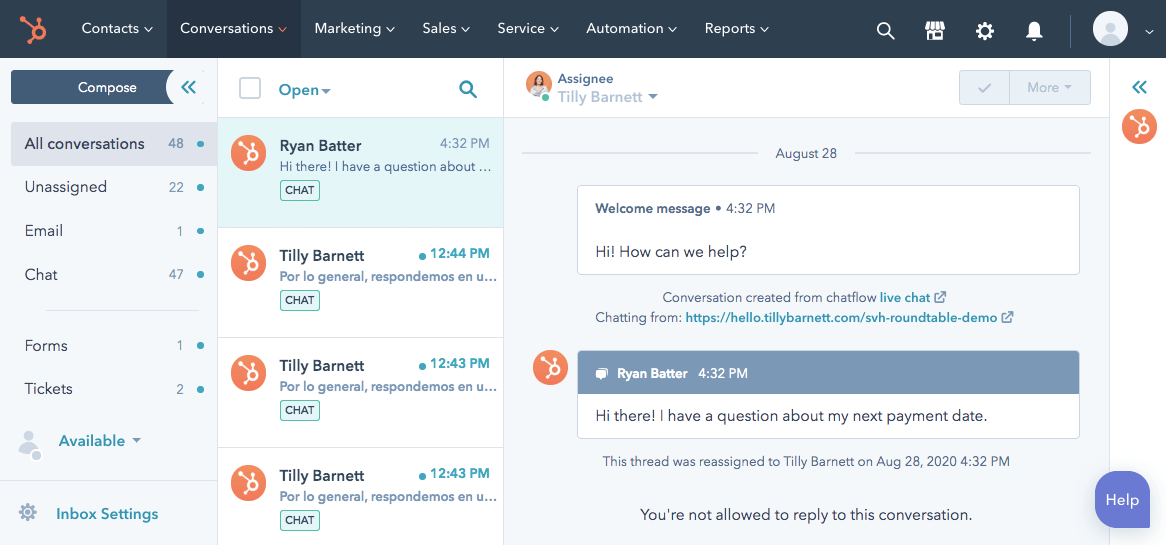 Open up multiple communication channels to connect
Connect team email, live chat, Facebook Messenger, and more to one universal inbox so your whole team has the visibility to manage and reply to conversations in one place.
Get the context you need to help customers succeed. Automatically track customer details and interactions with your business in one source of truth that's accessible to your whole team.
Get a pulse on customer happiness. Deploy NPS, CSAT, CES, and custom surveys to gather feedback that can be used to build a better customer experience.
Automatically capture details from every call so you can uncover the "why" behind team performance. Then unlock coaching opportunities with AI-powered insights.
Make better decisions with comprehensive forecasts. Create a pipeline to monitor renewals and upgrades, and give managers better visibility to projected performance.
Surface actionable data to improve customer service. Highlight top service requests with data-backed reports and assess team performance over time with enhanced dashboard capabilities.
Assign scores to your contacts, so you can track the health of your customers and prioritize outreach. Use your scores to segment lists, trigger automation and more.