What is Marketing Hub?
Marketing software to help you attract the right audience, convert more visitors into customers, and run complete inbound marketing campaigns at scale — all on one powerful, easy-to-use platform.
Attract visitors through blogging, social media, ads, and more. Convert visitors into customers with landing pages, email, marketing automation, ABM, and more. Track ROI with revenue attribution reporting. All powered by the customer data in your CRM to enable personalization at scale.
The job is tough for modern marketers. Either you're juggling various point solutions, or you're stuck with tools that are powerful but impossible to use. This means scattered customer data, lackluster marketing, and too much time spent fussing with software. But it doesn't have to be that way.
All marketing tools on one platform
With Marketing Hub, all your marketing tools and data are on one easy-to-use, powerful platform. You'll save valuable time and get all the context you need to provide a personalized experience that attracts and converts the right customers at scale.
Publish content your audience is looking for, and get discovered in search, social media, and beyond. Add calls-to-action that convert readers into customers.
Build your search authority and outrank competitors with tools that help you plan your content strategy and optimize your content as you type.
Stop struggling to justify your ad spend. Manage Facebook, Instagram, LinkedIn, and Google ads right inside HubSpot, and track which ads are turning prospects into customers.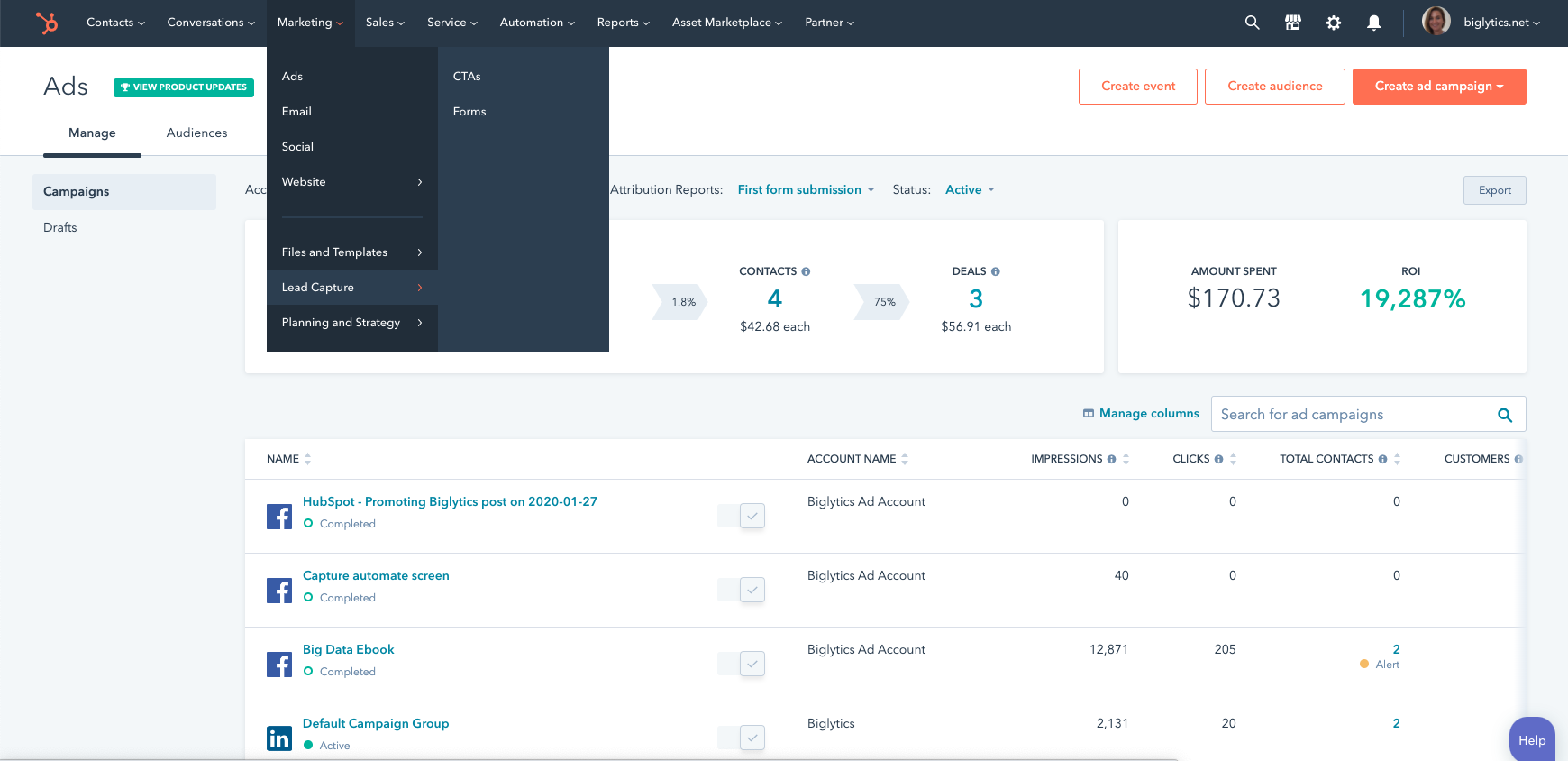 Create content that attracts and retains customers
Enhance the impact of your content through the power of video. Host and manage files right inside HubSpot, and easily embed them in social media, web pages, and blog posts.
Connect with and convert visitors in real time — when your product is top of mind. Use bots to qualify leads and scale your efforts so you can focus on the conversations that matter most.
Design and launch beautiful landing pages without help from developers or IT. Choose from mobile-optimized templates that are proven to convert, or build pages from the ground up.
Easily build forms using a simple drag-and-drop editor. Add them to your website to convert anonymous visitors into leads that automatically flow into your CRM.
Save time and scale your efforts with workflows. Nurture and score leads, personalize email at scale, automate cross-functional operations, manage data in bulk, and more.
Create mobile-optimized email campaigns that look professionally designed — all by yourself. Personalize content for each recipient, and run A/B tests to improve clickthrough rates.
Unite your marketing and sales teams with collaborative, intuitive ABM tools. Build deeper relationships, and turn your highest-value target accounts into customers.
Track what is important
Stop letting important interactions go unnoticed. Monitor and prioritize conversations, and publish to social networks with the same tool you use to create campaigns.
Get the full picture for every lead in a single, integrated database. Segment and nurture contacts based on any data you've collected, and automatically score leads for your sales team.
Make smarter, data-backed decisions with powerful custom reporting and built-in analytics. Tie your work to deals closed and contacts created with attribution reporting.
Enjoy the flexibility to store and customize any kind of data in HubSpot. Slice and dice custom object data into reports, and build dashboards to share insights with your team.
What is Sales Hub?
Powerful sales software helps teams close more deals, deepen relationships, and manage their pipeline more effectively — all on one easy-to-use platform.
Including a fully featured sales CRM, sales engagement tools, quote and CPQ functionality, reporting and analytics, and more — plus the ability to seamlessly integrate with 940 tools in HubSpot's App Marketplace.
For sales teams, friction is the ultimate foe. Stitching together individual point solutions and managing their complexities? It slows you down and stalls growth.
Sales Hub eliminates friction by bringing all your tools and data together on one easy-to-use, powerful CRM platform that your whole team will love. Now, you're freed up to focus on what really matters: your customers.
Generate polished, branded quotes in seconds. Send quotes when your product is top of the mind to close deals faster.
Know the second a lead opens an email so you can follow up at exactly the right time and close deals faster. No guesswork involved.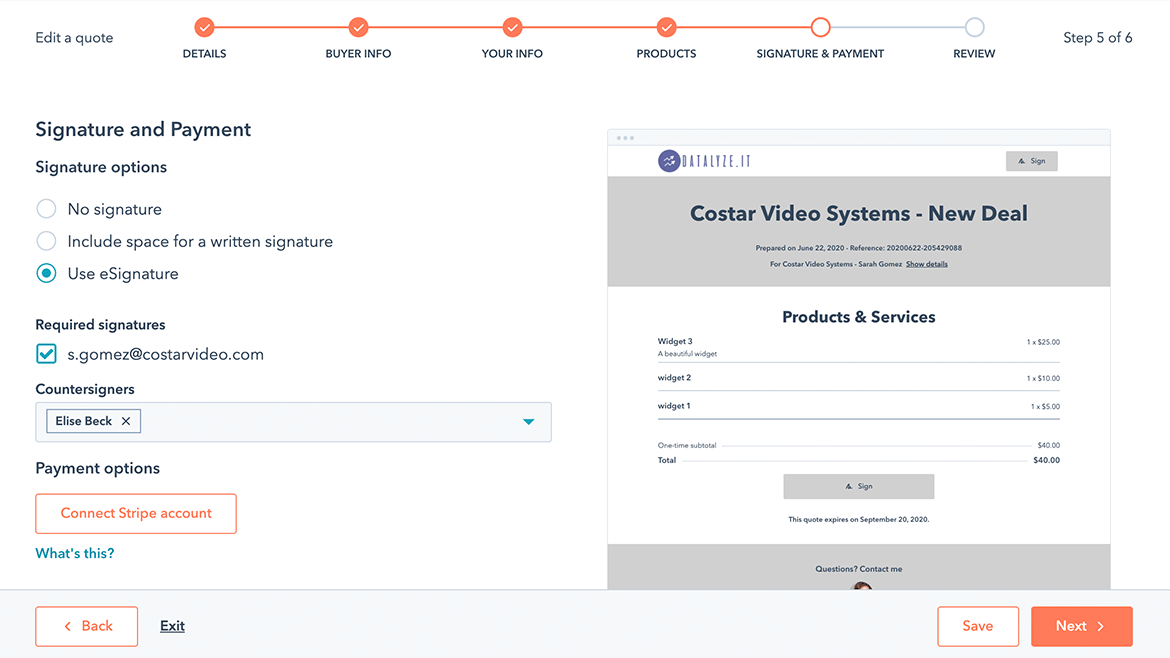 Automate the sales processes that repeat
Build a library of helpful sales content for your entire team, share documents right from your Gmail or Outlook inbox, and see which content closes deals.
Automatically capture details from every call so you can uncover the "why" behind team performance. Then unlock coaching opportunities with AI-powered insights.
Prioritize your day's sales calls, make and record calls directly from your browser, and automatically log them in your CRM for maximum efficiency.
Get powerful context about the people and companies you're emailing, right inside HubSpot CRM, Gmail or Outlook inbox.
Eliminate the painful back and forth of meeting scheduling. Share a link that gives prospects the power to choose a time that works for everyone — it'll automatically sync with your Google or Office 365 calendar.
Automate your sales process with a personal touch. Set up a series of personalized emails and follow-up tasks to ensure you stay top of their mind throughout the sales process.
Ramp up the conversion game
Connect directly with prospects when they're actively engaging with your website. Route chat conversations to the right salesperson to build better relationships and close more deals.
Stop letting lucrative deals slip through the cracks. Add deals with a single click, assign tasks, and track progress in your dashboards to make tracking sales pipelines a breeze.
Save time by turning your best-performing sales emails into templates that can be shared with your team. Just personalize with data from your CRM, and hit Send.
Arm your team with competitive battle cards, call scripts, positioning guides, and more. Better sales enablement and faster onboarding means more time to close deals.
Answer important questions about sales performance by bringing all your data together in one place. Get full visibility to your process so you can forecast effectively and deliver exceptional results.
Manage your contacts, deals, and tasks from any place and device. Keep up with your leads while you're on the move or away from your desk.
Build deeper relationships and turn your high-value target accounts into customers. ABM includes collaborative, intuitive tools that unite your sales and marketing teams.
What is Service Hub?
Customer service software that helps you conduct seamless onboarding, enable flexible customer support, and deepen customer relationships. Service Hub delivers efficient and end-to-end service that delights customers at scale.
It includes conversational tools, help desk automation, knowledge-based functionality, customer feedback surveys, reporting, and more — all powered by a CRM to give your business one unified view of each customer interaction.
Today, customers expect resolutions in minutes and personalized, 24/7 service through various channels. But most customer service reps are overwhelmed trying to meet these growing demands because their tools and data live across multiple sources.
Service Hub brings all your customer service data and channels together on one CRM platform, so you can efficiently onboard, support, retain, and grow your customer base. The result? Better customer service management and delighted customers at every stage of their journey.
Spend less time on data entry, and more time helping customers succeed. Add routing to tickets to create a help desk that prioritizes critical issues first.
Give customers the means to help themselves
Help customers help themselves, and reduce your number of support requests. Convert frequently asked questions into a searchable library of helpful articles, videos and documents.
Help customers on your website in real time. Automatically route users to the right people on your services team, and build better relationships through contextual conversations.
Use video to build stronger relationships from the beginning. Create personalized help videos for individual customers right inside HubSpot, and easily add them to emails or tickets.
Empower your customers to gain ownership over their experience with a secure customer portal. Your portal keeps ticket conversations going between customers and reps, so issues are resolved faster.
Call your customers directly from the HubSpot platform with HubSpot's VoIP software. Get crystal-clear call quality and take advantage of features like call logging and analytics.
Eliminate unnecessary manual processes so your team can focus on solving customer problems. Empower agents to craft personalized experiences that scale.
Keep your team organized and efficient by ensuring every user has access to the right assets. Quickly view and manage agent permissions, status, and availability across your team.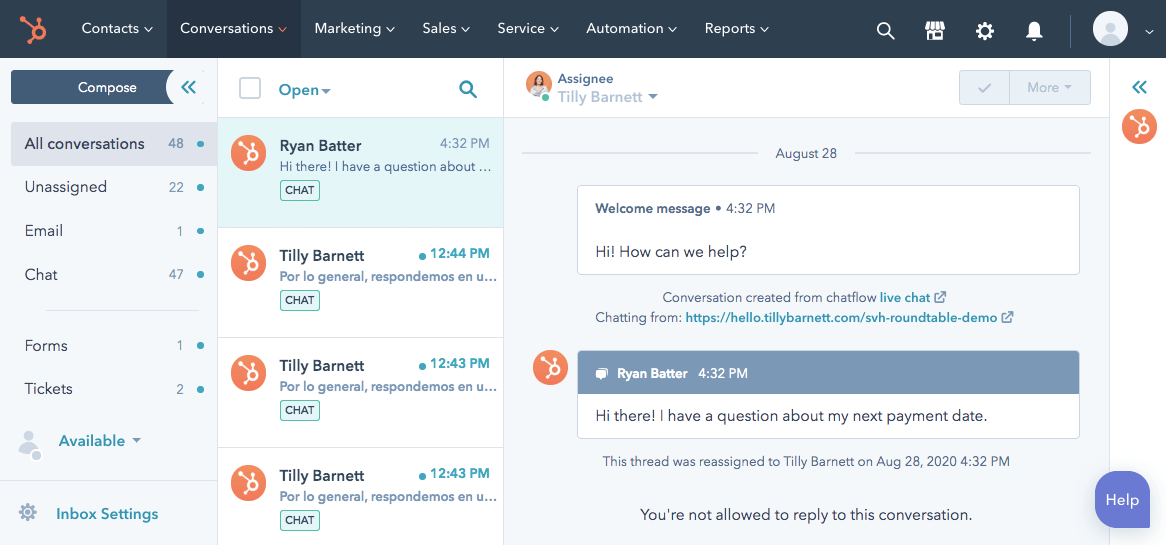 Open up multiple communication channels to connect
Connect team email, live chat, Facebook Messenger, and more to one universal inbox so your whole team has the visibility to manage and reply to conversations in one place.
Get the context you need to help customers succeed. Automatically track customer details and interactions with your business in one source of truth that's accessible to your whole team.
Get a pulse on customer happiness. Deploy NPS, CSAT, CES, and custom surveys to gather feedback that can be used to build a better customer experience.
Automatically capture details from every call so you can uncover the "why" behind team performance. Then unlock coaching opportunities with AI-powered insights.
Make better decisions with comprehensive forecasts. Create a pipeline to monitor renewals and upgrades, and give managers better visibility to projected performance.
Surface actionable data to improve customer service. Highlight top service requests with data-backed reports and assess team performance over time with enhanced dashboard capabilities.
Assign scores to your contacts, so you can track the health of your customers and prioritize outreach. Use your scores to segment lists, trigger automation and more.