Coffee with Srikanth Ram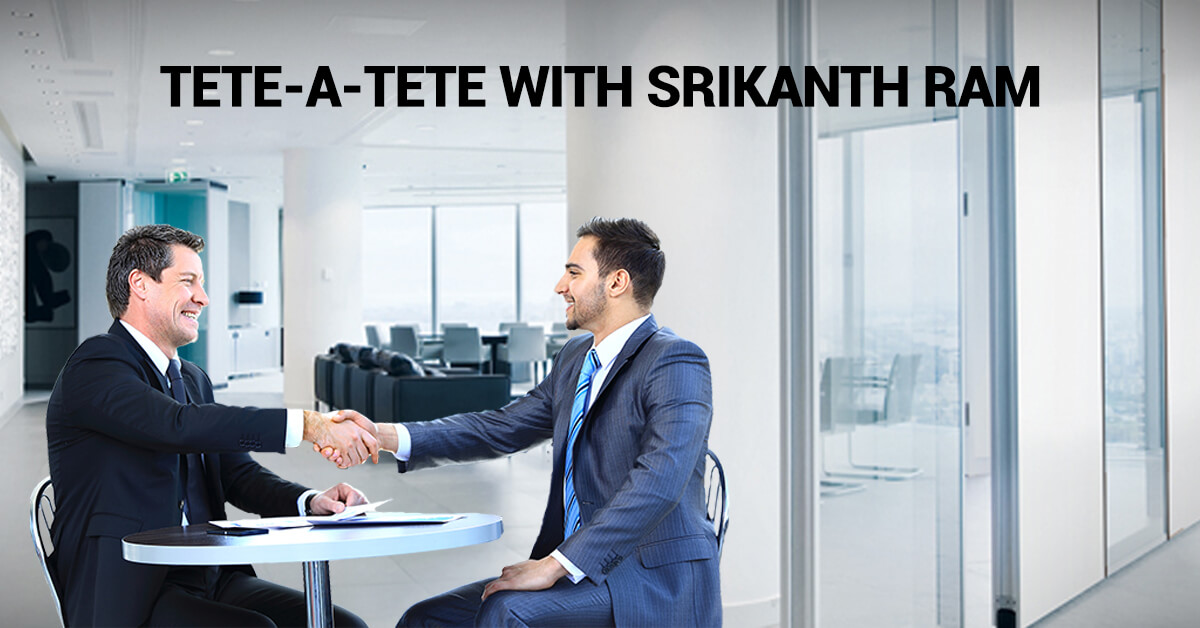 Stepping away from our routine of publishing digital marketing articles through this blog, we would like to share the wonderful experience of having met Mr. Srikanth Ram in Chennai recently. The interaction that we had with him was inspiring and prompted us to share his story with all of you.
With a leadership experience of 25+ years in the apparel industry, he currently heads the Innerwear and Accessories at Raymonds. Srikanth hails from a well-established apparel export family and started his career with his family business. At a young age itself, he took the reins of the company and directed a large organization to get ISO 9000 which was the first company in India to achieve this certification in 1995. He then decided to move out of his comfort zone and venture out into the established corporate world. The motivation behind this was to explore his abilities, adapt to work with different organizational levels and not fear from committing mistakes in life.
Apart from being a good corporate leader at work, his colleagues, friends, and family look up to him for mentoring and advice in life. With the strong motivation to connect and help youngsters, he has guided a lot of aspiring executives and brought changes in their lives. "Helping the new generation brings immense satisfaction and a sense of achievement is life", he adds. To make himself more accessible to the youngsters he has recently joined Quora (https://www.quora.com/profile/Srikanth-Ram-3), where he looks to contribute actively. This has aided him to connect to more people and help them professionally, especially entrepreneurs and youngsters who have taken an offbeat path from the corporate life.
A life defining moment in Srikanth's life was when he had an opportunity to meet and speak with Gary Kirsten, the former South African opening batsman and erstwhile coach of the Indian cricket team. Gary had explained how a few motivational words made a difference in the mindset of the Indian players before they had won the World Cup in 2011. It was these inspiring quotes which made Srikanth realize the importance of mentoring and how a few motivational words given at the right time can help to bring out the best in oneself. To ease the pressure and help the players perform better Gary had quoted just before the big match of the finals: "Do not take the weight of 1 billion people's expectations on your shoulder as this might affect your performance, instead visualize that these 1 billion people are joining hands and walking along with you". This simple but profound phrase worked miracles and propelled the team to the World cup title.
Adding another feather to his crown, Srikanth, who is very passionate about flying, is a certified paragliding pilot. He has been practicing this sport for over 3 years and believes that this sport makes him feel closer to God. According to him, paragliding equals meditation as it gives him the inner strength to overcome any difficulties in life.
Srikanth, an avid traveler, also shared his enthusiasm for travelling and explained that he does not want to leave any place in the world unexplored. He firmly believes that one learns to adapt and live life only by experiencing different cultures and meeting different people across the world.
A man of principles and moral values, he credits his family and friends for all the success achieved. He explains how the love and support shown during the difficult times have helped him stay determined and focused in life.
With all the success and Laurel being bestowed on him, Blueoshan wishes all the best for this multifaceted leader as he scales peak after peak, all the while humming the lyrics of his favourite Tamil songs.
Know more and connect with him on
Linkedin: https://www.linkedin.com/in/ramsrikanth/
Quora: https://www.quora.com/profile/Srikanth-Ram-3
Twitter: https://twitter.com/srikanthchennai
Facebook: https://www.facebook.com/Ram-Srikanth-236715833478304/?business_id=910007709139979